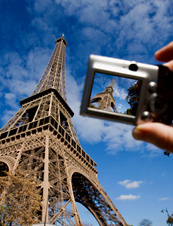 Memorial Day—and the vacation that went with it—is over.  
Take a moment, shed a tear and then snap out of it. It's time to start planning your next little getaway. And we may have just the tool to help.
Welcome to
joobili.com
, a travel website that focuses less on the "what" and more on the "when" (meaning, you show up in the right European city on the right weekend
).

Think of joobili as that (mostly) trustworthy European friend of a friend who knows when all the cool kids are gathering to drink beer in Brussels. So you have a little free time, want to do something interesting across the pond and don't exactly care where: drop by joobili, enter in a range of dates that might work and you'll have a laundry list of festivals, happenings and events from the large (think Glastonbury in England) to the obscure (the mighty Ljubljana Summer Festival) to choose from.
 
Or, use their filters to find specific events in sports (the Henley Royal Regatta, British Open, Turkish Oil Wrestling festival), music or seven other categories from Arts to Food & Drink.
 
If you're more of a drop-off-the-grid kind of traveler, you can even use the site to protect your peace and quiet: enter the dates you want, the city you're jetting off to and make sure your Gothenburg, Sweden, jaunt won't be overrun by the Metaltown 2009 heavy metal festival (June 26-27).

Or worse yet, the ABBA reunion.