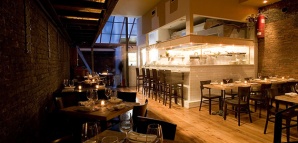 Even a food transportation system as brilliantly conceived as the dumbwaiter can use a modern twist once and again.

So say the folks at the new Mercat.
 
Soon to open in Noho, Mercat—which means "market" in Catalan—says gracias pero no gracias to the traditional benefits of the dumbwaiter (the owners removed the one that came with the venue). In its place, they've inserted a glass-enclosed, floor-to-ceiling cheese shaft (in our humble opinion, the only kind of shaft there should be).

It's merely one of several eccentricities of the cozy 90-seat Spanish kitchen (owned by Jaime Reixach, the son of a Catalan stage actor), which also features a wall festooned with white tiles to resemble the subways of Barcelona, an exposed kitchen and chef's counter where you can observe the creation of your authentic Catalan meal (fideua negra, anyone?), and a jamon and cheese station constructed of acid-treated junkyard wood.

And once you've had enough of cheese-filled ex-dumbwaiters and jamon stations, head belowground to check out the 30-seat downstairs tapas lounge (opening in a few weeks). From a spot not far from where the dumbwaiter would have descended, order up one of Mercat's innumberable Spanish wines, in their house special sizes of magnum and double-magnum.

It'll take a real waiter to bring it to you, but trust us, it'll get there.