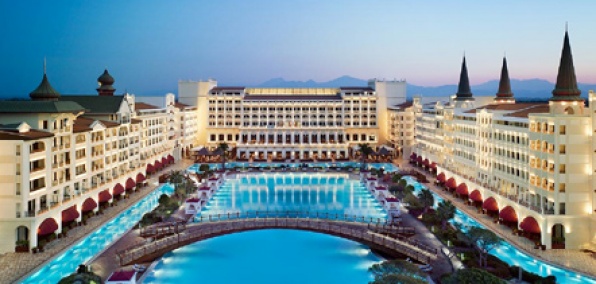 You've tried world's finest luxury hotels, and haven't found much to complain about.

Still, it's always nice to get some new blood in the mix. And if that means fewer Renaissance frescoes and a couple more poolside romps…well, you're willing to give it a try.

Introducing the Mardan Palace, Turkey's newest megahotel, opening today, complete with a truly overwhelming amount of Italian marble and one of the largest pools in the world.

In other words, it gives Versailles a run for its money. All told, the complex stocks 14 restaurants, four different aquariums, and more than 100,000 square feet of gold leaf to rest your eyes on, not to mention a fleet of chauffeurs on standby in case you ever decide to venture off the grounds. And plane tickets aside, it'll still set you back less than spending the same time at the Plaza. 

As for that pool, at five acres it's more of a chlorinated lake. Do a little exploratory diving and you'll come across an artificial coral reef, a window to one of the many hotel restaurants, and an adjacent 350,000-gallon fish tank to keep you company. There's even a canal dug around the pool for after-dinner gondola rides, but be warned: a round trip will take you a full half hour.

By which time, you should be digested enough to check out that fish tank again.