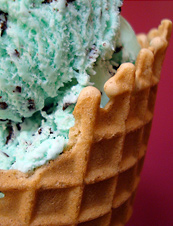 You're a romantic type.
Which occasionally means making sacrifices: watching Sarah Jessica Parker movies, giving up cold-pizza breakfasts…scouting organic ice cream spots.
We can't help with those first two, but we can introduce
Three Twins Ice Cream
, the city's first stand-alone, certified organic ice cream joint, opening today in the Lower Haight.
Romancing a crunchy, eco-minded free spirit sometimes requires going the extra mile—and thankfully the extra mile, in this case, happens to be around the corner from
Uva Enoteca
, so at least you can start with wine and pasta before suggesting a nice walk to "this little place I know that does dessert." We're pretty sure things will really rev up when she sees the
Lemon Cookie
(an ice cream made from crushed vanilla-sandwich cookies) or
Dad's Cardamom
, a spice-laden twist on the frozen classic.
If you sense she's still not seeing something she likes, wink at the organic ice cream guy and say, "Good sir, get the good stuff from the back freezer." He'll look back with a knowing smirk and let you know what he's got back there. And—for true dessert-related emergencies—there's a secret menu. It's still a work in progress, but we're told it will feature even more daring organic flavors, toppings and sundaes.
Caution: we're not sure what happens when you pull this card, but we're guessing it's not bad.