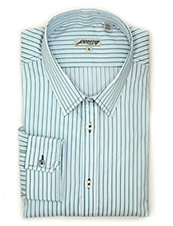 Enjoy your weekend. Really.
But—and we hate to be buzzkills—don't forget: after this three-day jaunt comes to a close, you'll be headed back to a place called the office. And while going topless might be tolerated, even encouraged, during a long weekend, we doubt it'll be viewed quite as kindly when Tuesday morning rolls around.
Fortunately, there's a new shop in town, designed with just this problem in mind.
Introducing
Jeremy Argyle
, a store dedicated to the work-friendly staple known as the button-up, open now.
Of course, for a modern man-about-town, it's not enough just to avoid public shirtlessness. You need an arsenal of patterns at your disposal, from understated checks to discreetly summery ginghams, and cuts that range from slim to relaxed (which one fits best depends on your BBQ intake this weekend). Smaller details like colorful cuff linings and square (not round) buttons give the goods a personal touch, but the shop keeps its sartorial ambitions understated, ditching distractions like pants and ties in favor of an almost Zen-like focus on the long-sleeved dress shirt.
Along with that focus, you'll get a more personal attention to fit and a price tag that won't require emergency bailout funds, both of which should be appreciated the next time you find yourself buttoning up for the day.
But in the meantime, get out there and enjoy the shirtless life.