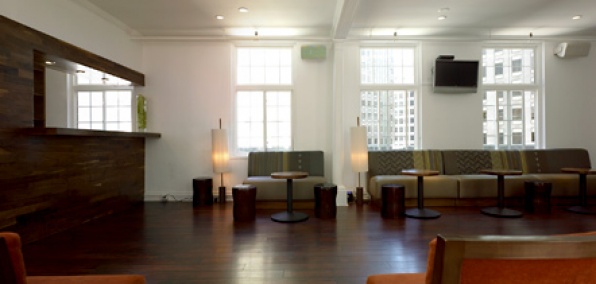 You've been out enough to know where the best parties are.

But sometimes your go-to circuit needs something extra, and that's when you take matters into your own hands.

Here to help in your entertaining endeavors: Nuit Blanche's Penthouse Suite—a new indoor/outdoor rooftop oasis with Financial District high-rise views—just remodeled for your partying pleasure.

Booking events now, this private downtown bungalow is where you can do everything from host a Sunday BBQ or Wednesday poker night to throw a DJ-fueled dance party—or even have a full-on alfresco dinner on the terrace with views of landmark FiDi buildings like the historic Hobart Building.

Walk down Market, past the Quiznos and 7-Eleven, and while you wouldn't think it from its unassuming presence, you're in the right place. Just smile knowingly, lead everyone to the elevator and take it to the top floor. Once the doors open to the coat-check girl and a set of narrow steps leading to the penthouse decked with plush red-and-beige chairs, dark wood floors and a cherrywood bar—you'll know you've made it.

And since rooftops are a scarce commodity in this wind-swept, fog-ridden city, you'll be happy to know that the terraces have industrial-duty heat lamps at the ready.

Though things will probably heat up naturally.