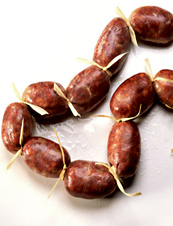 Memorial Day weekend kicks off in three days (not that we're counting), which means you've got a long weekend of drinking and grilling ahead of you.
And since you've fired up burgers and brats a bunch of times, maybe this is the year to throw something really special on the barbie…
Like fresh links made from scratch with your own two hands.
Introducing
Sausage Making 101
, a hands-on class taught by former Fifth Floor and Orson chef Ryan Farr where you and a dozen others learn the esteemed, time-honored art of stuffing meat-stuffs into casings.
You've probably become addicted to Ryan's chicharrones, and you might've even seen him butcher a whole pig at Bloodhound last week, so you know this guy's got skills. And luckily, he's not afraid to share them.
In three hours, you'll make chicken, pork/beef and all-pork sausages, so expect class to go fast. First you'll grind the meat in the Hobart grinder. Next, you'll move to the blender to mix in various spices—like a paprika/cayenne/garlic combo for the pork chorizo. Finally, you'll stuff it into casings—hog for brats and sheep for breakfast links.
Ryan's providing plenty of chicharrones to snack on, as well as homemade hot dogs—all made using meat you'd actually eat—and drinks.
Because you know what they say about all work and no play…