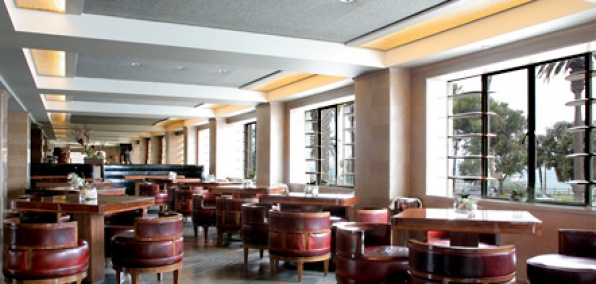 There's nothing like a Santa Monica sunset—though you'd rather not deal with Pier tourists while soaking it in.

You'd prefer a place where the red meat and seafood are plentiful, where all martinis have sidecars. A place like The Dining Room at Shangri-La, now open on Ocean Avenue.

On the first floor of the renovated hotel, you'll want a seat by the windows (yes, they open up), where your view of the big blue ocean is interrupted only by the occasional Big Blue Bus. For lunch, maybe a Roasted Leg of Lamb Sandwich for you, and an "Et Tu Brute" Salad (think about it for a second) for her.

Later, head to the bar, where an Edison vet is pairing vodka with fresh citrus from the trees shading the courtyard pool. Once you're ready for that tableside sunset, you might start with the Crispy Fried Poached Egg, then maybe the Vitello Tonnato (made of albacore and sweetbreads) before the Red Bell Pepper Sorbet or the classic-style doughnuts.

Pro: they're working on green certification with the city, and are big on utilizing the Santa Monica farmer's market, local meat and seafood, and California wines.

Con: about that wine…they're still waiting for a liquor license, but racing to seal that deal and get the pool open.

Before the sun sets on the holiday weekend.