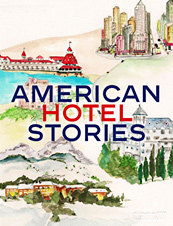 You've caroused like Kerouac. Drank like Hemingway. Partied like Jim Morrison.
Which is why we thought you should know what happens when you combine all three—particularly behind a locked door with a "Do Not Disturb" tag hanging from the handle.
Presenting
American Hotel Stories
, your new source for history-making travel ideas, out now in hardcover.
The book documents the hotel-based exploits of some of America's most notorious guys' guys—think JFK, Eastwood…Norman Rockwell—and contains plenty of debauched inspiration for the next time you're tanked in a lobby bar. Take the Doors' frontman, who, among other tricks, once drunkenly tried to enter his Chateau Marmont suite by jumping through its window—from the roof. (Your move, Lohan.) And then there's Al Capone, just 40 but suffering from syphilis, spending his post-prison years in Miami's ritzy Biltmore fishing on his yacht, chain-smoking cigars and running an illicit bar out of the basement. (As one does…)
Compiled by the
lovely
Chilean native Francisca Mattéoli, the book also includes some handy lists (the U.S.A.'s best mountain hotels, for instance) and some seriously gorgeous photos. So you can read about the Big Sur inn that drove Kerouac mad while perusing the place's lovely oceanfront swimming pool—which looks perfect for a late night skinny-dip.
Being the voice of your generation is completely optional.