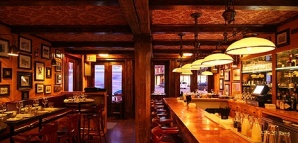 With its love for hockey, ice fishing and Rick Moranis, it's easy to forget that Canada has a hip side (think Europe, with more moose). For a not-so-subtle reminder of the northern neighbor's aptitude for rustic sophistication, behold
The Inn LW12
.
Opening today inside an 1860s townhouse in the MPD, The Inn LW12 is a Canadian (and British) gastropub that resembles a confident collision of
Gosford Park
and The
Great Outdoors
. The brainchild of Toronto's Jeffrey Jah (Lotus,
Double Seven
) and Montreal's Lyman Carter, The Inn fills the walls of both its street-level Tap Room and its second-floor Canoe Club with framed depictions of Canadian vistas crafted by Canadian artists. (If the tidy arrangement feels a little like a movie set, that's because a former set designer for Robert Altman consulted.)
For maximum Great White fun, reserve a spot on the second floor—ideally around the place's most precious piece of real estate—the bucolic leather couch (just under the Indian poncho), where you and your party can relax with wine, a
Maple Leaf
(maple syrup, lemon juice and Canadian Club) or beer from England, the U.S. and Canada. Gastro-wise, exec chef Andy Bennett serves poutine (fries, gravy and cheese), pig's feet and Guinness-braised steak from a kitchen that stays open till 4 am.
And coming in 3-6 months: an 800-square-foot third floor that management calls a "surprise." Although we've been assured it won't be a nightclub, the owners did not rule out an arena for ice fishing, a theater providing round-the-clock screenings of Strange Brew or a monument to clustered media attention.