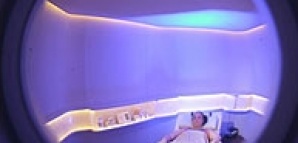 From Tokyo to Mexico City, it's understood: a little midday siesta goes a long way.

The trouble is, grabbing a few winks at your desk—or under it—doesn't exactly endear you to coworkers. Fortunately, now there's a safe haven for you: Yelo.

Just opened by entrepreneur Nicolas Ronco, Yelo is devoted to helping overstressed, overworked types like yourself recharge the biological batteries via some quick power z's. For as little as twelve bucks, you can rent one of the center's seven "YeloCabs" (small cabins equipped with purified air, mood music and soothing aromas), sink into a "YeloChair" (similar to a first-class airplane seat, only it can recline far enough to slow down your heart rate) and drift away to snooze-land. After the allotted time (20-40 minutes), lights gradually brighten to emulate a sunrise and nudge you back among the living.

And for those who just don't feel right paying for a private room without some touching involved, Yelo also offers reflexology treatments, in which a licensed massage therapist applies deep but gentle pressure to tension hotspots on your feet, hands and ears. You can grab a 30-minute reflex session on its own ($65) or combine it with a nap.

Afterward you'll feel as alert as if you pulled a Costanza. Plus you'll still have your dignity.