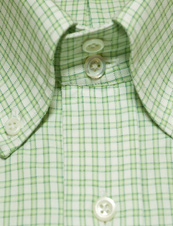 This just in: Total Economic Meltdown™ continues to rear its ugly head.
Which means it might seem silly—if not downright crazy—to launch an ultra-high-end shirting line right now. But damn it, that's exactly the kind of gutsy decision-making the moment requires.
Introducing
Platinum
, a bold, new collection of highly covetable shirts, available now.
It's from 126-year-old Texas-based shirtmakers Hamilton (the family-owned business has already survived one Depression) and Thomas Mason, the British mill that has been making the world's best fabrics since 1796. Since fit, as ever, is king, you'll have to submit to being measured before making some potentially life- (and shirt-) altering decisions: Button-down collar or spread? Button cuffs or French? Stripes or solids?
Then you'll pick through swatches that demonstrate just how supple your shirt will be. The cotton is sourced from (where else?) Egypt, where we're told the Nile's fertile delta helps produce the softest stuff in the world. (Only a handful of mills can produce 240-count yarn—this year, Mason introduced 300.) 
Both the warp and the weft are two-ply, which means these things should outlast this pesky downturn. (Finally, a shirt as soft and durable as Switzerland's foreign policy.) And with more than 1000 patterns available, you can have almost any style you want—stripes, checks, a full array of colors.

Sorry, tiger: no animal prints.

Times aren't that tough…yet.