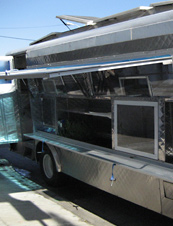 First there was Good Humor, then came taco trucks and the carts—curry, crème brûlée, amuse-bouche…
Let's face it: food on wheels is having a bit of a moment.
So it stands to reason that after seven years as your regular brick-and-mortar French hideaway (with killer garden patio, no less), Chez Spencer is adding a mobile component to its bistro repertoire with
Spencer on the Go!
—the first food truck to serve white tablecloth French fare—starting this weekend outside of Terroir Wine Bar.
Think of the truck's offerings—from
Braised Skate Cheeks
and
Grilled Sweetbreads
to
Frog Legs and Curry
and
Escargot Puffs
—as the ultimate in haute street meat. Once the white '86 Chevy decked out with strings of lights, a fridge stocked with French drinks like Orangina and Perrier, and even an herb garden with rosemary and lavender (delivering a sliver of Provence on four wheels) pulls up, order from the dozen-plus small-plates menu—and reserve the right to run a few back.
You can count on weekend nights of organic European wines and chef Katgely's delicacies, but if you want the truck all to yourself, it's fully equipped to cater parties and can go where many caterers can't—out at a vineyard, the beach, your driveway.
After all, there's something about its wayfaring mobility that has a certain
je ne sais quoi
.