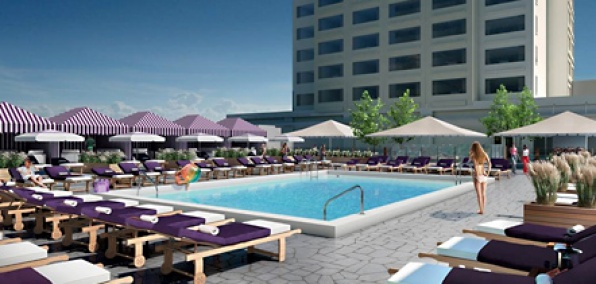 At some point this summer, you'll inevitably pay a visit to AC.
It's not Vegas, we know. But we always like hearing those faint glimmers of hope that someday, just maybe, it will be.
Like when we hear this: pools, cabanas, poolside martinis, and maybe a little PlayStation action while you're out there. (Because let's be honest, nothing goes better with tanning than a few rounds of
Rock Band
.)
Introducing
The Cabana Club
and
C5
, two little slices of LV in NJ, opening on
the Chelsea Hotel's
 notorious Fifth Floor for Memorial Day weekend.
At the open-air Cabana, you'll find those aforementioned martinis, and a drink menu by the same brilliant minds behind
Smith & Mills
 and the
Beatrice
. Treat yourself to a massage or have your palm read—in your future: chilled hand towels and (we're hoping) plenty of eye candy—near an island bar with a 25-foot umbrella. Or retreat to one of eight private cabanas for a different type of sightseeing—the kind that requires a plasma TV and the
Blue Crush
DVD
.
Of course, all good things must come to an end, so around dusk, pass through some nearby glass doors to enter what they're now calling C5
.
We're not sure exactly what that is, but inside, you'll have your pick from a rarefied selection of hooch, and there's also a weekly burlesque show by Dakota from Ivan Kane's Vegas revue Forty Deuce.
Because it's about time a bit of Dakota came to AC, too.