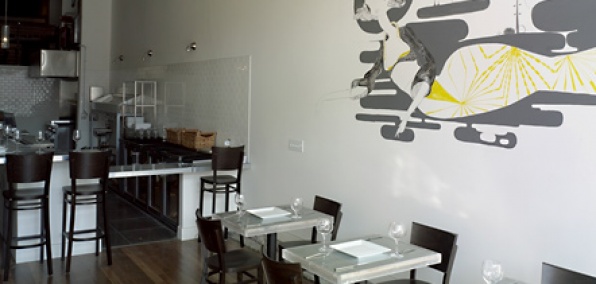 Generally speaking, finding the right date spot is harder than finding the right date.

Which means when you find a standout place with the ideal lighting, just the right buzz and a solid menu
(preferably with lots and lots of oysters)—like Bar Crudo—you hold onto it for dear
life.



Trouble is, waiting for a seat in that dime-sized raw bar meant you spent most of your date next door at
Tunnel Top—not that you're complaining, but…



Let us introduce the bigger, upgraded version of Bar Crudo opening Saturday on Divisadero.



Twin brother/owners Tim and Mike Selvera didn't mess with a good thing—think of it as everything you
liked before, and then some. You'll still find Mark's fresh-from-the-sea crudos like the signature
Arctic Char with Wasabi Tobiko and Tim's growing list of obscure brews (that's now clocking in
around 50), but now there'll be more to choose from.



Even with more space to spread out, you'll sense the familiar snug atmosphere that drew you there in the
first place. Settle in at the zinc bar and order oysters to go with a few pints of hard-to-find Deschutes
Brewery's The Abyss. There are also tables toward the front, but your best bet is to ascend to the
mezzanine, offering a bird's-eye view of the street through the original '20s window.



Consider it a feast for your eyes.