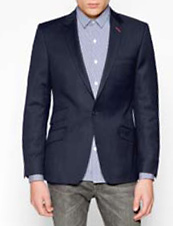 Call it a
rule of thumb: when the apple falls far from the tree, it typically falls very, very far away.

Cases in point: W., Julian and Sean Lennon, and let's just say Marcus Jordan isn't exactly lighting it up at the University of Central Florida.
 
So we were more than a little curious to check out Bespoken, a new line of natty British gear created by two prodigal sons birthed by the head of the esteemed British bespoke shirting empire, Turnbull & Asser, available right now for the first time in the U.S.
 
And we have a feeling that while we may be nowhere near the tree on this one, you'll like the apple...
 
Think of Bespoken as Savile Row infused with a bit of rock nastiness—the sort of clothes that the sons of aging rock legends would wear gallivanting around Soho (the London one, but New York will do as well) with a couple of champers-loving starlets.
 
What that means for you (in addition to filling your need for clothes to gallivant in) is a collection of trim blazers, rounded collar button-downs, jeans lined with shirting fabric and bright cashmere sweaters that come straight from the same mills and factories as T&A—only with the addition of a leaner cut and the subtraction of the old-boys-club attitude.

Right now there's nothing actually bespoke about it, but they have plans to launch a custom line in the future.

Think of it as a return to the tree...