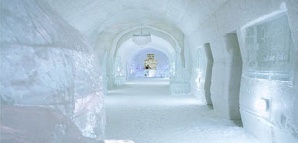 When it comes to the cold, there are two types of men: those who run for heat and those with the strength to make a vacation out of it.
Throw in that a hotel made entirely of ice has always been on your list of well-insulated supervillian things to do, and you now have yourself a suitably frozen vacation possibility. The Ice Hotel in Quebec is no euphemism—everything down to the beds is made of ice. And once you've agreed to sleep on ice, you might as well do everything else on it too. You'll be offered smoked aboriginal treats on ice plates and you can take your vodka
in
the rocks in ice glasses (forget
ice jackets
) at the appropriately named Ice Bar to numb you on the inside as much as the out.
But don't worry—Ice Hotel does its best to keep your mind off the temperature. You can spend your days dog sledding, snowmobiling, cross-country skiing and ice fishing, and end them in an outdoor hot tub at the Nordic-style relaxation spa. If that's not hot enough, head to the N'Ice Club (shockingly, also made out of ice) and dance your way back to a reasonable temperature.
"Huddling for warmth" with your girl afterward just might justify the frostbite.