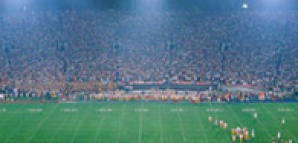 If 2006 was
all about bringing the Super Bowl party to you
, then 2007 is the year of venturing out for the big game. But with a thousand venues to choose from, most tragically overrun by kickoff, one must
choose wisely
. We recommend a two-pronged focus on (1) food and drink flow and (2) total flat screen inches (TFSI). Allow us to rundown the contenders for you.
Hawaiian Tropic Zone

Open bar, finger food and tatas go together for good reason. Get the trifecta at Hawaiian Tropic Zone, where for $100 you even get a beauty pageant at half-time. Also, two former NY Giants are bartending: Howard Cross and Sean Landeta.
Hawaiian Tropic Zone, 729 7th Ave (at 49th), 212-626-7316, hawaiiantropiczone.com
TFSI:

Ditch Plains
Ditch Plains finally puts its screens to good use (heretofore it was all surf videos, all the time). Try their special of Brats and Porkslap Pale Ale, a NY beer with good flavor and a better name. And keeping their usual happy hour for Super Bowl Sunday ($3 beers and $5 margaritas from 4-6pm) is just craziness.
Ditch Plains, 29 Bedford (at Downing), 212-633-0202, ditch-plains.com
TFSI:

Blue Smoke
Those wishing to combine XLI with a more refined dining experience should head to
Blue Smoke
, where Kenny Callaghan (Blue Smoke), Jonathan Waxman (
Barbuto
), Joey Campanaro (
Little Owl
) and Michael Psilakis (Dona) are re-interpreting tailgate food. And even if gourmet grub isn't your thing, $80 unlimited barbecue and drinks ain't the worst deal in town.
Blue Smoke, 116 E. 27th St (between Park and Lexington), 212-447-7733, bluesmoke.com
TSFI:

Silverleaf Tavern

It's not a real Super Bowl party unless there's some kind of all-you-can-eat. For the best action two twenties will see in town that day, indulge in hours of bottomless beer, wings and chili for just 41 bucks (finally, someone decrypts that Roman numeral).
Silverleaf Tavern, 43 E. 38th St (at Park), 212-973-2550,
silverleaftavern.com
TSFI:

For any and all of these, remember to call ahead to check availability. Of course, there's always Plan B—Fresh Direct some nachos and a case of PBR, plant yourself on your couch and don't move until Monday.