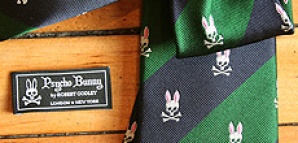 Not every trend is worth buying into (remember
Zubaz
?). So it's a rare pleasure when you can catch a "next big thing" that not only makes you look good, but also shows you've got a sense of humor.
Psycho Bunny
does just that. The line (launching full-scale this year but still new enough to not have a web site) features striking pieces that subtly take the piss out of all things preppy and luxe.
English-milled regimental stripe ties appear to fit in nicely at any yacht club or board room—but upon closer examination, what appears to be a club crest is actually the trademark PB "bunny and crossbones" (because skulls are so 2006). Other ties sport classic polo scenes, subverted by the PB logo tattooed on the horses' flanks (think Ralph Lauren gets drunk and gets inked).
Designer Robert Godley loves combining high-end traditions with edge: PB's cashmere scarves are straight out of Oxford—except that a huge AK-47 and empty shell casings are emblazoned on it. Godley's also using 1940s St. Moritz ski patches as inspiration for a "Psycho Bunny Ski Club" set of shirts and ties, and PB polo shirts in 14 colors debut this summer.
And to think—you thought bunnies were only for Easter and Hef.