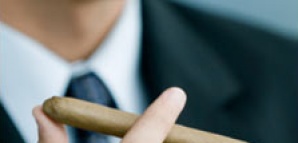 Yes, you're a complicated person, but deep down you've always wondered what your lifestyle would look like if it were summed up in one word. Player?
Hipster
? Loafer?
Online men's shop
OnTheFly.com
is about all the goods you'll need to properly outfit said lifestyle. The sleek, easy to navigate men's site carries over 5,000 lesser-known labels of goods, but the most brilliant part of it is that you can shop by the category of guy you are (finally, pigeonholing and stereotyping pay off).
Wall-Streeter
? Check out the farm-raised
Tsar Nicoulai
caviar.
Sportsman
? The
Mulholland Brothers Leather Safari Bag
is calling your name. And if you don't fit neatly into any of their categories (banker by day, S&M enthusiast by night), tell them about your lifestyle and expect a return email with a list of goods suited for you. What sets this site apart is that it goes beyond clothes to recommend accessories, gadgets, books, DVDs and even furniture based on your lifestyle. Which means buying gifts for your clients or bosses no longer has to be a painful trip toward Golf Tie territory (the category
Old School
should have you covered).
Even better, On-The-Fly launches its custom shirt program today, where you can
create your own Ike Behar shirt
from scratch (choose color, fabric, neck size)—giving you a chance to prove that you still know yourself better than any web site.