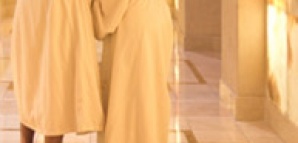 You love your woman, but let's face it—there aren't many activities she enjoys that couldn't be significantly improved by being soaked in some Pinot.

Take the ballet. Or shopping for outfits for her mini Pomeranian. Or sharing spa treatments.

Well, one of those activities has just been made more palatable, thanks to Delluva Vinotherapy Day Spa. Opening next week in Tribeca and now accepting reservations for Valentine's Day, this spa is all about treatments drenched in the grape.

If you've always wanted to sit in a wine vat (really, who hasn't), here's your chance—the Theravine Barrel Bath lets you soak in grapeskin- and vine leaf-infused liquid in a large tub. Body treatments are done with grapeseed oil and topped off with Cabernet body lotion, and in the showers you'll find Merlot shower gel, Sauvignon Blanc shampoo and Chardonnay conditioner (don't worry, we've been assured they're all very good years).

There's no need to resort to swilling the products, though, because complimentary beverages of your choice are served between all treatments, which means (brace yourself) a potentially very intense mud wrap experience. Pamper your woman with a 3-hour Bacchus Package or a full-day Magnum, or indulge in the half-day Pairings couples retreat.

You can trust that after it all she'll taste oaky-smooth and ripe, with a young, crisp finish.