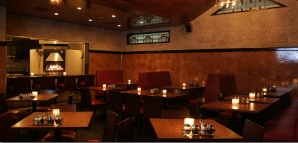 You've been eating at CPK for far too long now.
We're just letting you know that you can stop now.
Stone Fire Pizza Co.
has arrived.
The brainchild of the folks behind
The Belmont
and
The Spanish Kitchen
, Stone Fire Pizza, opening tonight, is part cozy lounge, part trendy old-school pizza joint, complete with red leather booths, limestone walls and a ski lodge feel.
Grab a group of friends, slide in a booth and prepare for some cheese, tomato and crust goodness—the pies are small, sharable and, in a diplomatic move, give love to both coasts: they're NY-style thin-crust with CA-style toppings (even the Midwest gets a nod with some Chicago deep-dish options—it's a very fair place).
You can get anything from the
Steak House Special
to
Vegan Soy
(you know which one we're behind). Pies are baked in a giant stone oven in the open kitchen, using walnut and mesquite wood for a smoky flavor. And for those who think a pizza could only be improved by making it into a sandwich, your dreams have been answered—Stone Fire has created
Pizza Press Sandwiches
, pizzas baked and folded in half, and then grilled (next up: the Pizza Burger?).
Sample from the wall of single barrels or seven beers on tap. And the daily happy hour (4-7pm) with half-price pies and beers means this might quickly become your go-to after you kick work.
Just remember you have to be back in the morning.