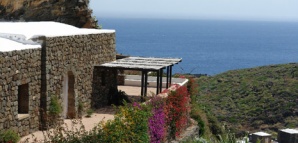 As the temperature drops, you've got to heat up your vacation plans. Someplace like Miami might be the easy answer, but for real heat, choose a volcano-equipped destination. Conveniently, the tiny island of Pantelleria (located 62 miles off the Sicilian coast) is made entirely of volcanic black rock surrounding an extinct crater (swimming is better than boiling, last time we checked).
The Pantelleria Dream Exclusive Hotel is a series of dammusi'curving, white suites with a black volcanic rock exterior. Naturally, it gets pretty warm here, but the rocky walls keep things cool inside (we've been ensured the minibar stays cold).
Your options for exploring the lush countryside range from ubiquitous Vespas and Smart Cars to Arabian horses (hint: if you break easily, chose something with seatbelts). Cool off in a mud bath at Venus Lake at sunset, then clean up in the hot springs at the
Bagno dell'Aqua
near the volcanic crater or the hotel's infinity pool overlooking the Mediterranean. If the ocean's calling, head over to
Cala Levante
or Cala Gadir for some scuba diving.
After a long, hard day underwater looking at fish (consider it window shopping), join the locals at
Il Cappero
on Via Roma for Pasta Con Pesce Spada (locally caught Swordfish).
The heat is definitely on.