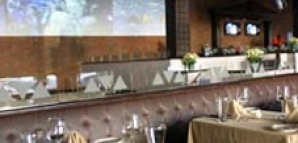 Yes, you love quality time with your woman—but when she wants that QT when the Lakers are down by one with just a second left, well, your perfectly ordered world starts to get...ugly.

For those who think you can't have your Kobe burger and eat it too, there's Trifecta, the new fine dining sports lounge (yes, you heard correctly).

Think "Cheers" with fine dining fare, add sex appeal and you have the vibe. Settle in on chocolate leather banquettes to enjoy one of the more unique dining experiences to hit LA: filet mignon Philly Cheesesteaks and Lobster Sliders amidst 24/7 sports on 13 high def plasmas (including a 25-foot projection beaut, brilliantly placed within view of every seat in the room).

She'll enjoy the sour apple martinis with the melon-sized scoop of apple sorbet; you'll enjoy the open permission to scope the next play—it's a perfect world. This a place where men can be men, women can hang out, and where there's no room for that cheap-beer swilling guy wearing the foam finger.

Later on, look for private rooms fitted with plasmas and offering plug-and-play PlayStations and Nintendos in case you want to get in on the action yourself.

We believe even Kobe can drink to that.