Each year, the World's 50 Best Bars releases its list of the top 50 cocktail joints around the globe. And each year, it gives us something fun to talk about — and plan vacations around.
The 2023 list just dropped, and like last year, a Barcelona bar earned the top spot. Except while Paradiso got the nod last year, now it's Sips turn in the sun. And that's particularly impressive considering it only opened in 2021.
Sips is located in the heart of Barcelona's L'Antiga Esquerra de l'Eixample district. It's an elegant space and the drinks incorporate cutting-edge techniques while remaining fun and playful. Part of its instant success is due to the founders, Simone Caporale — who was one half of the creative duo that led London's Artesian to The World's Best Bar title a record four times — and Marc Álvarez, who spent almost a decade at Ferran and Albert Adrià's elBarri restaurant group.
New York's Double Chicken Please grabbed the number two spot, while the top five is rounded out by Handshake Speakeasy in Mexico City, Paradiso in Barcelona and Connaught Bar in London.
London topped the list with five entries, while Mexico City has four, and New York, Singapore and Athens boast three bars in the top 50. In total, the 2023 list features bars from 28 cities, with 11 new entries across Bangkok, Berlin, Dubai, London, Melbourne, New Orleans, Paris, Rome, Seoul, Singapore and Stockholm.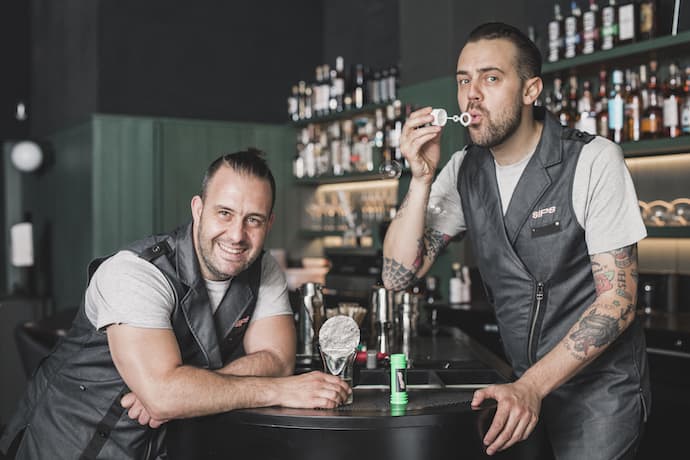 The list is compiled by votes from The World's 50 Best Bars Academy, which comprises 680 drinks experts (with 50/50 gender parity), including bartenders and consultants, drinks writers and cocktail experts from around the world.
The World's 50 Best Bars — 2023
1. Sips, Barcelona
2. Double Chicken Please, New York
3. Handshake Speakeasy, Mexico City
4. Paradiso, Barcelona
5. Connaught Bar, London
6. Little Red Door, Paris
7. Licorería Limantour, Mexico City
8. Tayēr + Elementary, London
9. Alquímico, Cartagena
10. Himkok, Oslo
11. Tres Monos, Buenos Aires
12. Line, Athens
13. BKK Social Club, Bangkok
14. Jigger & Pony, Singapore
15. Maybe Sammy, Sydney
16. Salmon Guru, Madrid
17. Overstory, New York
18. Zest, Seoul
19. Mahaniyom Cocktail Bar, Bangkok
20. Coa, Hong Kong
21. Drink Kong, Rome
22. Hanky Panky, Mexico City
23. Caretaker's Cottage, Melbourne
24. Café La Trova, Miami
25. Baba au Rum, Athens
26. CoChinChina, Buenos Aires
27. Katana Kitten, New York
28. Satan's Whiskers, London
29. Wax On, Berlin
30. Florería Atlántico, Buenos Aires
31. Röda Huset, Stockholm
32. Sago House, Singapore
33. Freni e Frizioni, Rome
34. Argo, Hong Kong
35. A Bar With Shapes for a Name, London
36. The SG Club, Tokyo
37. Bar Benfiddich, Tokyo
38. The Cambridge Public House, Paris
39. Panda & Sons, Edinburgh
40. Mimi Kakushi, Dubai
41. Scarfes Bar, London
42. 1930, Milan
43. Carnaval, Lima
44. L'Antiquario, Naples
45. Baltra Bar, Mexico City
46. Locale Firenze, Florence
47. The Clumsies, Athens
48. Atlas, Singapore
49. Jewel of the South, New Orleans
50. Galaxy Bar, Dubai