Combining spirits with art is nothing new, as brands regularly team up with artists on limited-edition labels.
But rarely are collabs so geographically pinpointed as Great Jones Distilling Co.'s new bespoke bottle collection and distillery takeover featuring artwork by Jean Michel Basquiat.
Because the NYC distillery is located just down the block from Basquiat's old apartment and art studio in Noho.
Great Jones Distilling Co. opened in 2021 as Manhattan's first and only whiskey distillery since Prohibition. Basquiat died in 1988 at the too-young-age of 27, but his art has lived on. And now that art is adorning the labels of three new whiskey bottles while also inspiring the Basquiat Bar, a tasting room, and a capsule collection of merchandise.
The three bottles feature Basquiat's iconic "Pez Dispenser" dinosaur graphic, his "Untitled, 1982 (Skull)" and his "Untitled, 1982 (Crown)". The first two contain 4-year-old Great Jones Straight Bourbon and are available to purchase in liquor stores throughout New York State, at the Great Jones Distillery and via online retailers. The third bottle features the crown on the label and contains an entirely new expression: a 7-year-old Pineau de Charentes Wine Cask-Finished Bourbon that is bottled at 91 proof and available exclusively at the distillery. Whiskey and art aficionados will want to score one of each.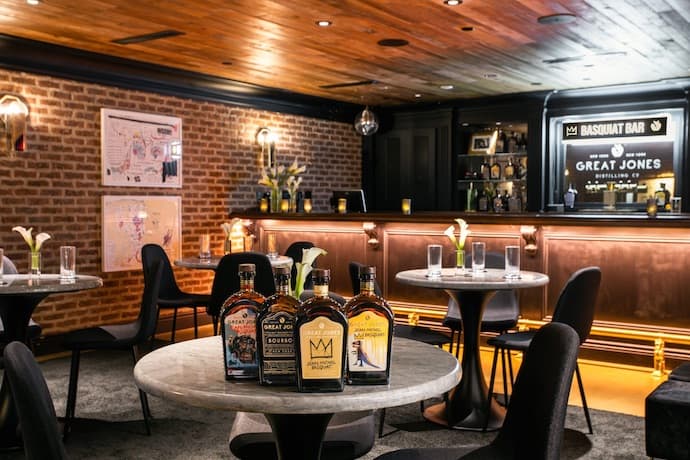 The Great Jones speakeasy has been transformed into The Basquiat Bar. It's a throwback to the artist's era and inspired by one of his favorite watering holes, The Mudd Club. It's open Thursday, Friday and Saturday evenings through September and serves a menu of Basquiat-inspired small bites and signature cocktails, like The J.M.B featuring Great Jones Straight Bourbon, red bitter aperitivo, molasses, fresh pineapple juice and lime.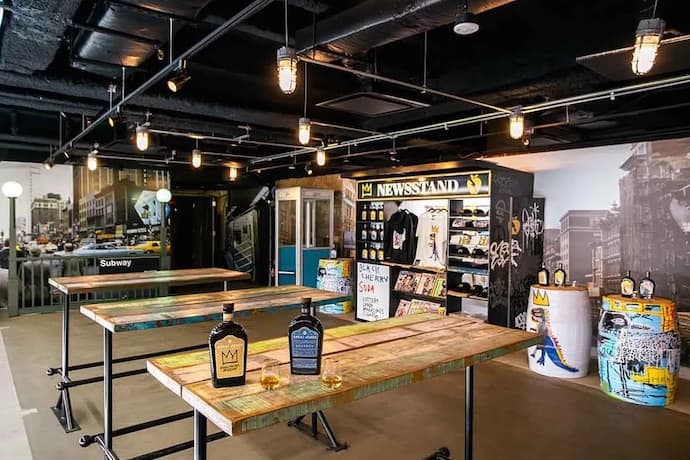 The distillery's tasting room has also been transformed into a Basquiat-themed experience, with oversized imagery and items pulled from 1980s New York. There will also be swag for sale, as the project includes a curated collection of shirts, hats and other items designed and produced by NYC brand Rome Pays Off.
So you can have a drink, learn a little something about art, and score a hoodie all in the same day.