Many trips to Oahu begin and end in Waikiki, with visitors flocking to its sandy beaches, numerous hotels and high concentration of restaurants and shops.
Those who want to avoid the flock might head to the North Shore or post up on the Kailua side of the island.
But the best bet is to position yourself at the southern tip of Waikiki, where you can take advantage of all the nearby amenities, while enjoying a quieter stretch of land away from the crowds.
That's where you'll find the Kaimana Beach Hotel. It sits at the peaceful end of Waikiki's Gold Coast and has all the sunny beachfront, comfortable beds and tropical drinks you require for a successful vacation.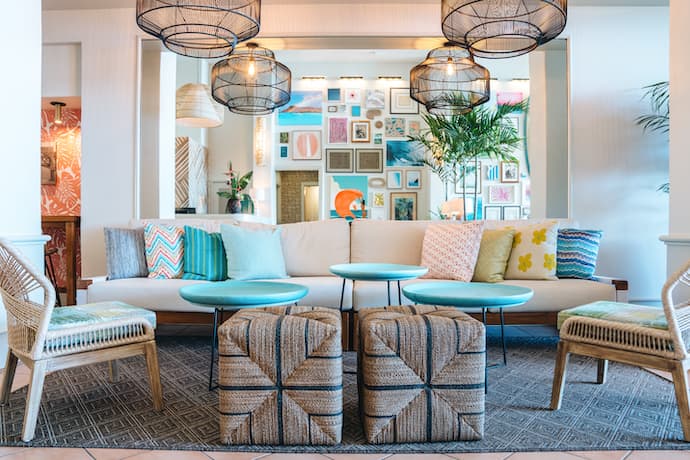 The 117-room property was originally built in 1963, but a recent renovation has breathed new life into the hotel. The design blends modern beach aesthetics with a nod to its mid-century roots, and the interior sports a mix of bright colors and earth tones accented by green plants.
Rooms start at a cozy 200 square feet and go up to a spacious 440 with king beds and postcard views. Many of the rooms look out onto the beach, with balconies floating over the Pacific Ocean, while others look onto Diamond Head, the volcanic crater and popular state monument. If you want to splurge, reserve one of the five suites. The penthouse suite is the biggest of the bunch, measuring 838 square feet, with a large living space, panoramic ocean views and a wraparound balcony. It's the perfect spot to catch a sunset.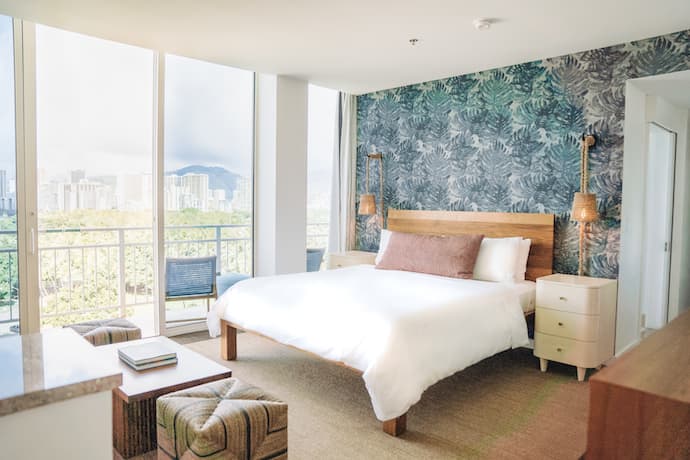 Head down to the lobby, and you'll find Hau Tree, a casual restaurant centered around a top-notch tree that's just steps from the beach (Kaimana Beach Hotel is Waikiki's only boutique property located directly on the sand, so you're never far from the beach). The brunch menu includes Benedicts, loco moco, shakshuka, a house-cured salmon board, salads and a burger, while dinner brings in chips and caviar, crispy Spanish octopus, crab tagliatelle and king salmon.
The Hau Tree bar is one of the better watering holes in the area, with classic and creative cocktails. For a light start to your evening, try the Hau Tree Highball (hibiscus-infused Pau Maui Vodka, yuzu and soda), sip on a 1944 Mai Tai, or go all in with a Martini that's pulled from the freezer and served with a tray of edible garnishes.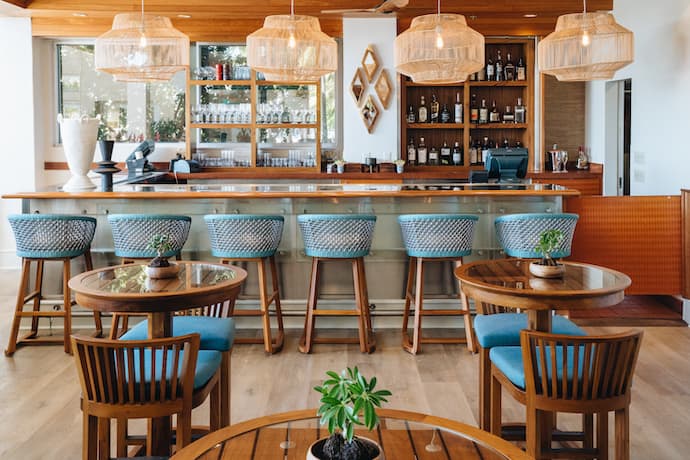 There's also Sunset Provisions, a coffee shop and actual shop with all manner of coffees, teas and snacks, plus locally made T-shirts, swimwear, sunglasses and other gear. It's a good place to start your day or grab a caffeinated pick-me-up in the afternoon.
All Oahu beaches are public access, but given the hotel's tucked away location, it's easy to find a spot on Kaimana beach. When it's time for some sun, guests can score complimentary chairs, towels and umbrellas and hunker down for the day. If you want something more active, grab a standup paddle board, explore the coast via traditional Hawaiian outrigger canoe, or schedule a surf lesson with world champion long boarder Kai Sallas.
Drinks taste even better after taking a few spills in the waves.