San Diego…
Discovered by the Germans in 1904, they named it "San Diago."
Which, of course, means "city with the world's coolest new hotel that has a soundtrack by Swizz Beats, an indoor bowling alley, a mezcal extravaganza in the remnants of a decommissioned Catholic church, and towering mini bars of bourbon and rum."
We can agree to disagree on semantics.
The fact remains that The LaFayette Hotel & Club is a spectacle to behold, a secret gem of an adult playground that will elicit responses such as "whoa," "it's gorgeous" and "I'm not worthy," when you squire a date past its epic columns and grand doors.
Here's how you're going to use it.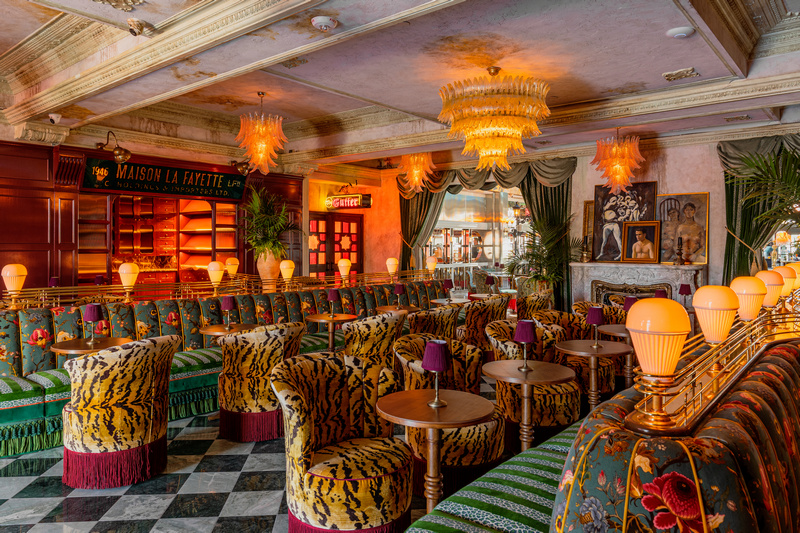 Marvel at the lobby. The same one where Frank Sinatra and Ava Gardner would check into this historic, recently revolutionized building. Pause while your companions ooh and awe over the maximally eclectic setup before you: The vintage checkerboard floors and tasseled, tiger-striped chairs. The green silk booths, art deco crystal chandeliers, and cast-iron streetlights. The DJ booth where you may normally find a concierge. For those times when a Swizz Beats-designed soundtrack isn't playing over the custom sound system.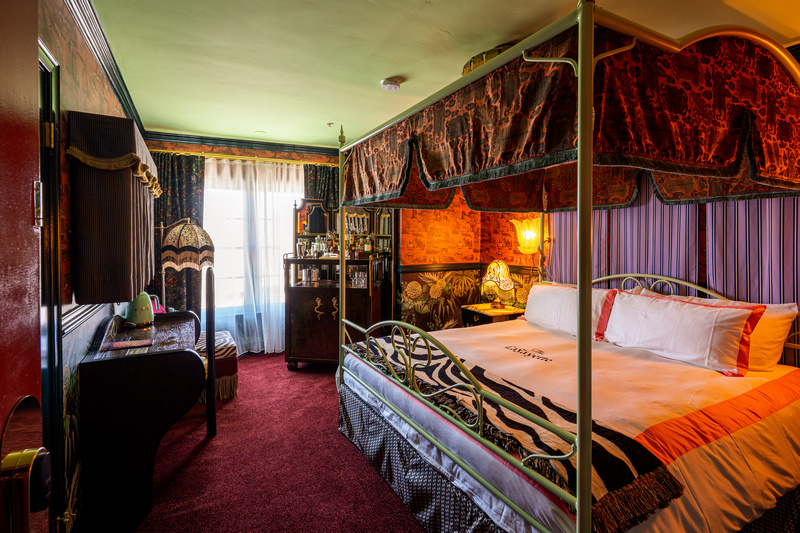 Go to your room. You can go for one of the brighter Suze Suites that surround the huge pool on the ground level. Or a Spanish Mission-style townhouse that mixes the classical with the whimsical. Either way, you'll be privy to a mirrored, Keith Richards-worthy bar with cobra handles in your room absolutely teeming with bottles of small batch bourbon, tequila, mezcal, and rum. Perfect for hosting all the bathing suit-clad new friends you're about to acquire.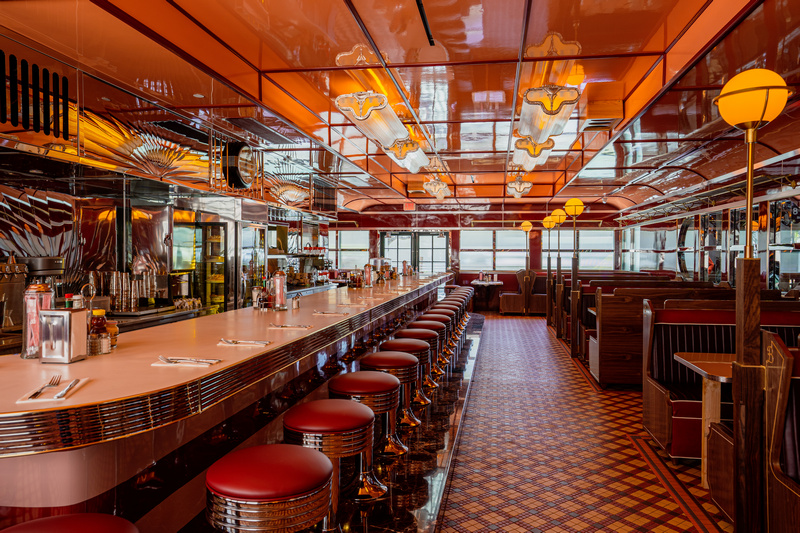 Pay homage to the diner. As Greek diners and Jewish delicatessens go the way of the dodo, you'll find a vintage 1940's model called Beginner's Diner just off the lobby here that would drive Edward Hopper hopping mad with jealousy. Look for the chrome and neon signage, grab two red leather stools at the counter, and order a Wagyu patty melt and a strawberry milkshake laced with Aperol, vermouth, and Tequila. Save room for what's to come.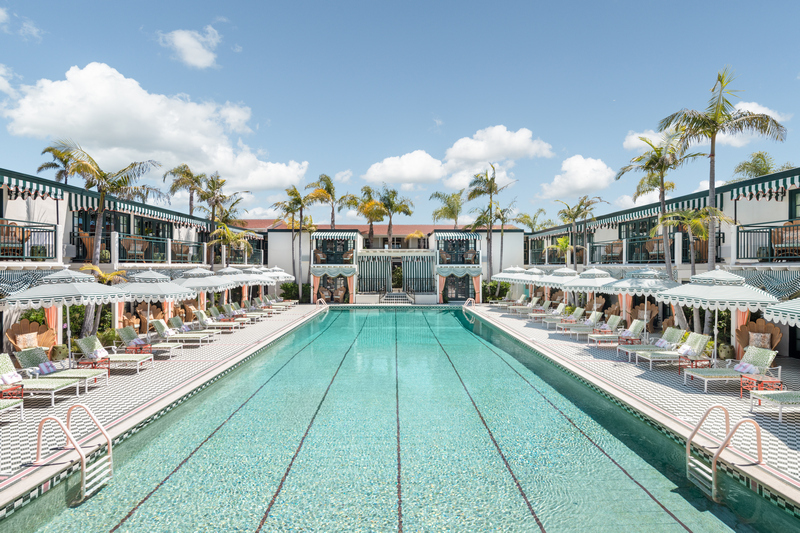 Get some sun. It's not all drinking here. In fact, just past the seductive Parisian bar below a globe embossed with the Wu-Tang symbol, you'll find the doors to the large pool. It's sunny San Diego, but feels like the Amalfi Coast, with all the scalloped umbrellas, azure waters, rattan chairs, and hot, tan people from various parts of the world. Or maybe it's the aperitivos and spritzes talking. Did we just mention booze again? Don't answer that.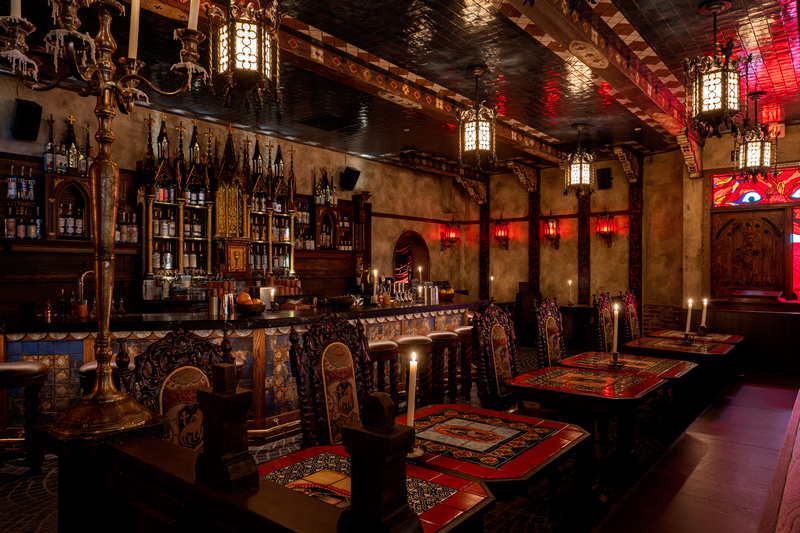 Chase culinary windmills. If your jaw is not quite on the floor yet, you'll reserve a table for modern Oaxacan cuisine at Quixote. Enter a dark, decommissioned Catholic church lit by dripping candles, stained glass recalling one of Goya's monsters, and the occasional full-sized statue of the purported mother of God. Perfect setting for trying a range of rare mezcals while digging into crispy lamb belly with mole, sushi-grade hamachi tostadas rich with uni, and caviar-topped blue crab corn doughnuts. Are you getting tired of saying "wow" yet?
Look to the future. You're having a good time. Take a second and consider this place once they're added Le Horse restaurant and the forthcoming jazz club known as Lulu's Jungle Room & The Mississippi Room. As well as the Russian, Turkish, and Roman baths that will open soon. "Wow." That one was ours.

End the night by striking out. This will go down at The Gutter, a stunning indoor, two-lane bowling alley inspired by inspired by Henry Frick's own basement bowling alley under the Frick museum in NYC. It's all very There Will Be Blood.
Without the blood, of course.