It seems like everyone's going to Mexico City these days, and for good reason: It's teeming with incredible architecture, restaurants, bars and cultural activities across its massive and diverse landscape.
When deciding where to stay, the sprawling city has no shortage of compelling neighborhoods, but over the past decade Condesa has become a reliable go-to for visitors looking to cash in on the area's walkable streets, green parks, vibrant art and bustling food and nightlife scenes.
If you want to get in on the action, there's a new hotel that's making it easy. Andaz Mexico City Condesa opened earlier this year, with 213 rooms, a Tulum-inspired rooftop restaurant and pool, and a pet-friendly beer garden.
The hotel is housed within the historic i421 Live District, and it was originally designed by famed architect José Luis Benlliure Galán, who is credited with bringing Art Deco architecture to Mexico City. It's been restored and updated, but you can still see remnants of the building's heritage in the common spaces.
The entrance is on the ground floor, but the check-in desk and the Derba Matcha Café are on the second floor, which means you'll become well acquainted with the bright-pink escalator as you make your way around the hotel. You'll find other pops of color as you explore, with a preference for pinks, greens and pastels, including at Derba, where you can sip a matcha latte while sitting in a space peppered with plant life.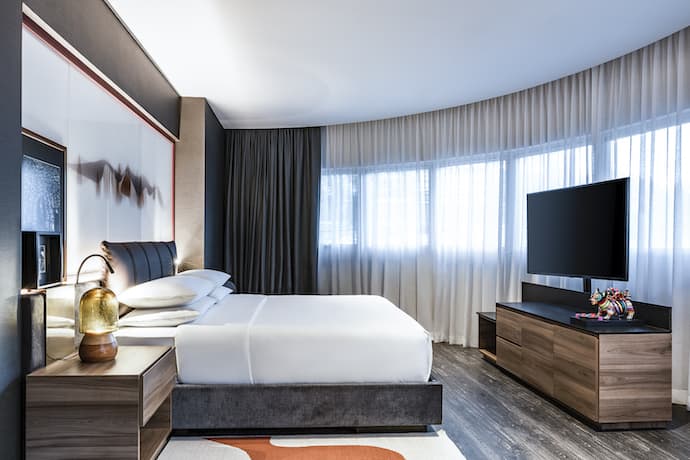 Rooms run from 290 to 344 square feet, while suites expand your living quarters up to 926 square feet and have sweeping views of the city. They don't skimp on amenities, and all rooms come with a workstation and a minibar filled with Mexican snacks and drinks from locally owned businesses. Guest rooms feature curated artwork, from mosaic-tile headboards to piñata figurines—or "alebrijes"—made by local artisans. Each guest room also has a record player. Spin what's there, or peruse the vinyl collection in the lobby library and choose something more to your liking.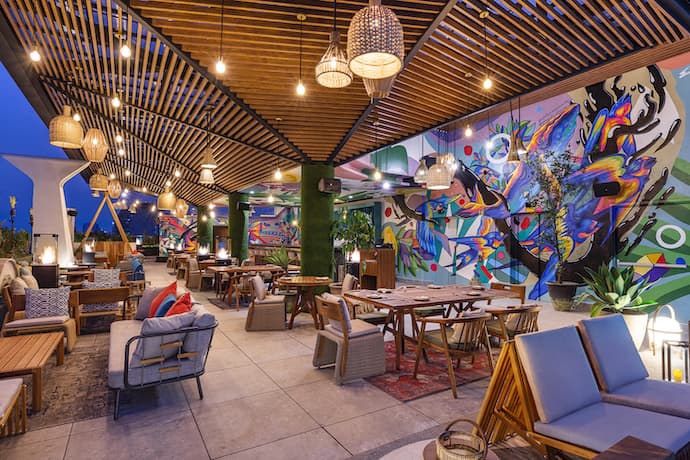 Mexico City has an abundance of great bars and restaurants, so it's not the kind of place where you spend all day at your hotel. But the Andaz rooftop restaurant, Cabuya, is a solid spot for dinner and drinks. With its breezy vibe and colorful murals, the open-air space evokes a beach club, albeit one that's 17 floors up and sports 360-degree views of the skyline. Sunset is the perfect time to order a mezcal-spiked cocktail and something from the coastal Baja and Yucatan-inspired food menu. You can't go wrong with the aguachiles, grilled octopus, conchinita pibil tacos and fish zarandeado.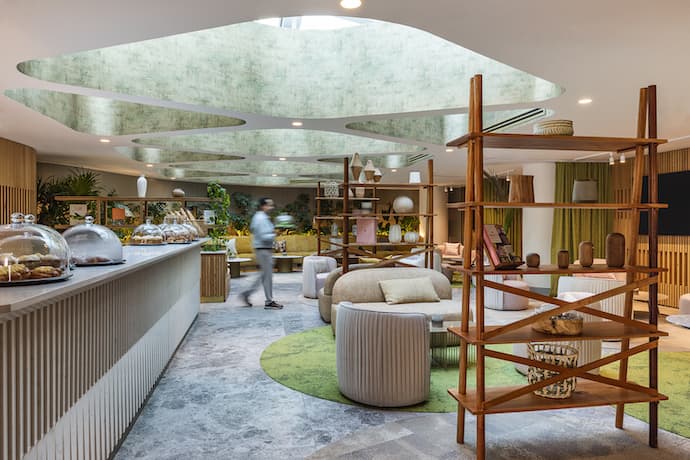 The second floor terrance is where you'll find the Wooftop Beer Garden and Canine Club, an indoor/outdoor hangout with a food truck serving burgers, hot dogs, fries and churros. There's plenty to eat and drink for you but also for your dog via a special dog-friendly menu. The space is rounded out by a turf park and a pet accessory shop from local boutique Perro del Mundo.
Once your pet has been pampered, you should probably see about yourself. The Pasana spa is small but mighty, with four treatment rooms doling out massages, facials, scrubs and other wellness rituals. The adjacent gym is open 24 hours and has everything you need for a good workout, including weights, treadmills, bikes and rowing machines.
Normally we don't advise ruining a perfectly good vacation with exercise. But considering that Condesa is home to great tacos, high-end restaurants and award-winning bars—and dozens within walking distance—we might make a one-time exception.