Cooking shows and other food programs are fun, lighthearted and easy to binge.
But when the show's over, you're still at home scrolling through the delivery apps.
Because no matter how many talented chefs make great meals on screen, it doesn't put dinner on your table.
But starting June 30, those talented chefs will begin putting dinner on specific tables in Los Angeles via Netflix Bites, a restaurant pop-up featuring some of the biggest names from some of Netflix's biggest shows.
The restaurant is located at Short Stories Hotel near the Grove, where Netflix hosted its retail store during the 2022 holiday season. Netflix has also held in-person experiences for shows like Stranger Things, Money Heist and Bridgerton, so this isn't the first time the streamer has operated IRL.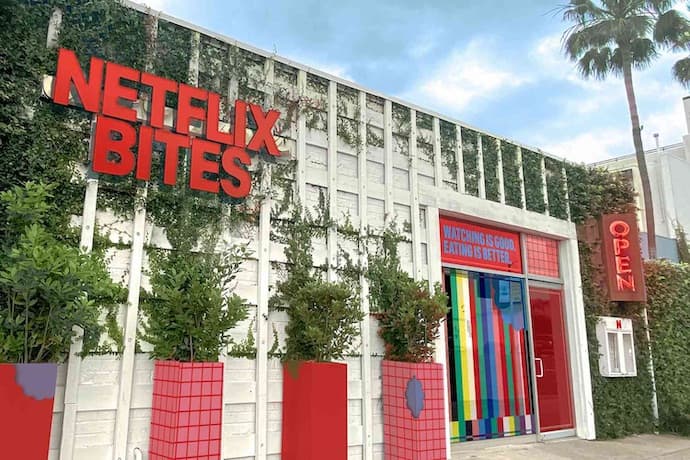 The Netflix Bites menu comes from chefs including Curtis Stone, Dominique Crenn, Ming Tsai and Andrew Zimmern, who were all featured on Iron Chef: Quest for an Iron Legend (the first three as competitors and Zimmern as a judge). Then there's Rodney Scott, the South Carolina barbecue wizard who was on Chef's Table: BBQ and Ann Kim, the Minneapolis pizza slinger featured on Chef's Table: Pizza. There's also Nadiya Hussein, winner of The Great British Bake-Off, and Jaques Torres, the pastry chef and judge of Nailed It.
That's part of the equation, but you also need drinks. So bar pros from Drink Masters will round out the menu with craft cocktails.
Netflix Bites will serve dinner seven days per week, with brunch service on Saturdays and Sundays. It's billed as a limited-run experience, but there's no official end date. You can make reservations via Resy, and you probably should.
Because it's still a few years off before TV chefs can feed you straight through your screen.