We're all adults here.
But it doesn't always feel that way, especially when you must resort to smuggling edibles in your luggage, or smoking a joint in a discreet alley.
So let's get on the same page and head for The Lexi, a cannabis-friendly hotel that just opened in Las Vegas.
It's got all the trappings you expect from a hotel—bar, pool, spa—but it's also the only cannabis-inclusive property in town. So go ahead and smoke 'em if you got 'em.
Walking into the Shangri-la like entryway, you'll find a sprawling lobby, plus a bar and lounge. The hotel's 64 rooms range from standard doubles and kings to suites and a penthouse. One-bedroom suites have a living space with a wet bar and pool table, while the penthouse has two bedrooms, two baths and a living room, in case you're having friends over. The press materials say the walk-in shower is "perfect for one, two or even a party of more!" So, do with that info what you will.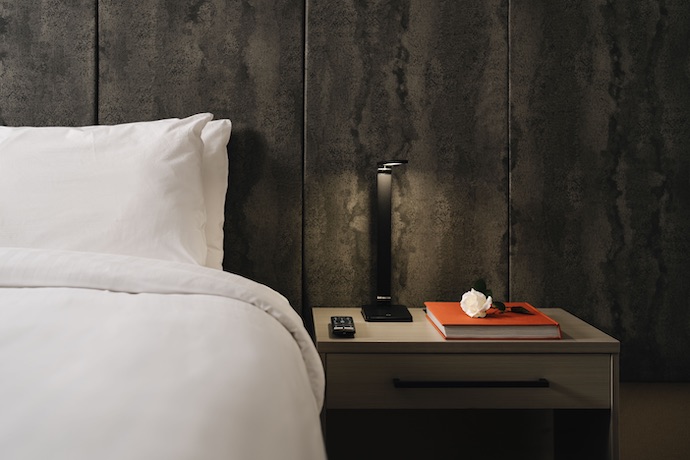 The fourth floor is where things get interesting. It's the designated floor for recreational marijuana use, so request a room there if you wish to partake. Don't worry, each room features high-tech filtration systems to keep the air fresh.

There's also a "European-style" pool, which means that tops are optional, with cabanas and DJs. You can get massage treatments at the Lazy Bee Spa, and an on-site gym has everything you need for a good workout.
Dining is available from morning until late-night, with options including fresh baked pastries, breakfast sandwiches, kobe short rib nachos and a pork belly banh mi. Poolside snacks include seared sesame tuna poke, truffle fries and lobster rolls, and beer, wine and cocktails are always within reach.
For legal reasons, The Lexi can't sell cannabis products on site, so you'll need to bring your own.
Or make friends, perhaps in that party shower, with someone who did.