If your idea of camping involves canned beans and cold tents, we applaud your bravery.
For everyone else, there's a way to do it that involves climate controlled tents, king beds and cocktails.
And, due to a technicality in the English lexicon, you can still call it "camping."
Ulum Moab is a new venture from Under Canvas, the outdoors-loving outfit that was formed in 2012 and now runs luxury campsites across the country in places you've heard of, like Yellowstone, Glacier National Park and the Grand Canyon. Reservations are open now for stays beginning March 30.
Ulum continues that trend, but upgrades the experience to a resort that's stocked with 50 all-suite tents, each with a private deck. They sport king-size beds and separate living areas, plus upscale furnishings, woven rugs and ensuite bathrooms with rain showers and Aesop products. The tents open up to the land, so whether you're on the deck or inside, the natural surroundings are always within view. And considering the locale, there's no shortage of views.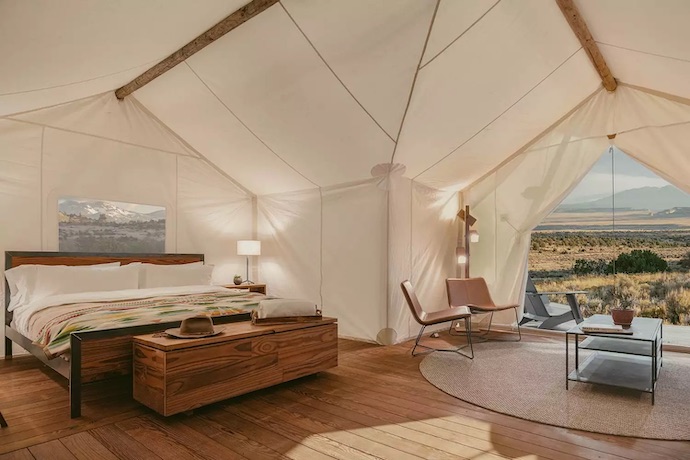 The resort is situated on 200 acres of desert landscape. It's nestled amid the area's iconic red rocks and is just steps away from Moab's famous Looking Glass Arch. The Colorado River provides rafting opportunities, and hiking trails and mountain bike trails are plentiful. You're also just a short drive from other must-see destinations, like Arches National Park and Canyonlands.
To remind you that you're "camping" and not camping, Ulum Moab has a full-service restaurant serving seasonal cuisine with southwest inspired flavors. Start your morning with al fresco coffee, fresh juice and breakfast, then convene in the lounge after a day outdoors to enjoy a pre-dinner aperitif. After you eat, you can slap together artisan chocolates and marshmallows for nightly s'mores sessions before doing it all over again tomorrow.
The outdoor activities and dinner menus may change, but the s'mores are forever.