Saunas have been shown to promote circulation, reduce stress, decrease inflammation and even extend longevity.
So, it's a shame that using one usually involves padding around a crowded locker room and dodging people in various states of undress.
Hence the desire to sauna on your own terms, whenever and wherever you want—say, in your backyard or while camping.
Which you can do now because SweatTent is a wood-burning sauna that fits in your trunk. This new contraption quickly exceeded its fundraising goal and is expected to begin shipping in May.
This portable, lightweight sauna is deigned to go where you go. It goes from packed to ready in just three minutes, so you can start schvitzing on demand.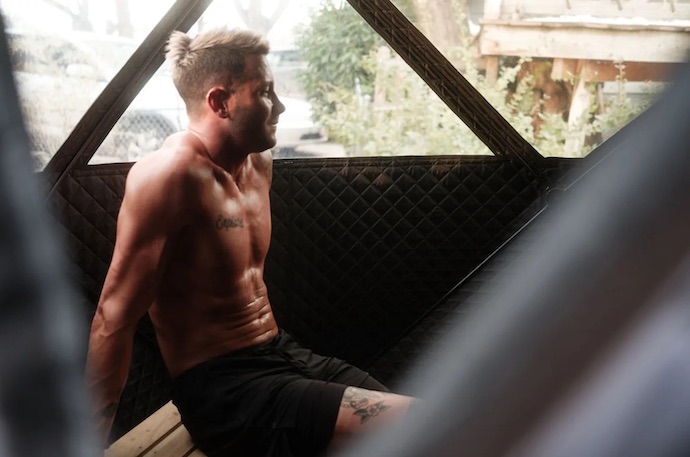 SweatTent is made from two layers of durable, weather-proof fabric, with an extra layer of insulation between. With reinforced corners, ground-seal wind skirting, and holdfast steel stakes, it's built to withstand rain, snow and whatever weather comes your way.
Rather than cheap infrared rays or steam, this thing relies on the power of traditional wood-fired heat. Logs load into a stainless steel stove, and once they're burning, the tent reaches temperatures of 200°F in less than 30 minutes. There are temperature control vents and a chimney to funnel out smoke, so the interior stays comfortable. A spark arrester keeps the stove from emitting sparks or emissions. And there's even a large window, so you can watch the world go by.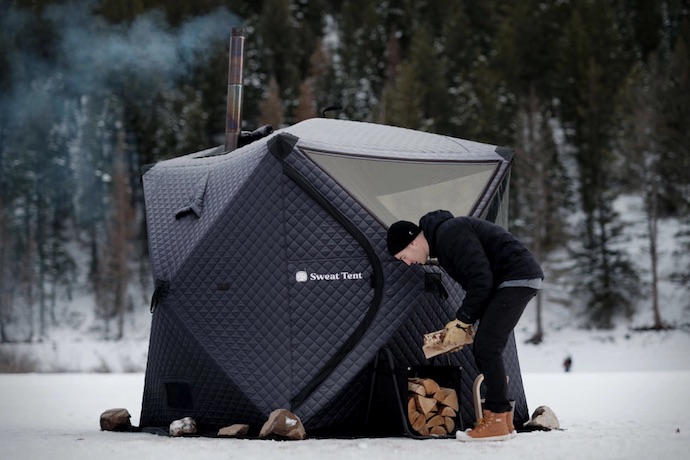 When you're not using the sauna, it folds down and packs away into a duffle bag, so you can keep it in your trunk or closet or wherever you like to keep such things. Then it takes just three minutes to set back up, and you're ready for a good sweat session.
Which we like to count as exercise.