Everyone who travels knows that, despite any adages about journeys and destinations, being places is always better than getting places.
Because airports, planes, trains and long drives are not nearly as fun as posting up on a beach or exploring a city.
At least, that's what we thought before Airwheel, a carry-on suitcase you can ride like a moped. Which we can all agree is better than shlepping around bags by hand. It's on Kickstarter now and quickly exceeded its funding goal, so it should begin shipping in February.
Airwheel looks like a regular suitcase. You know the type: hard exterior, handle, wheels, room inside for all your stuff. But it's also packing an electric scooter with a rechargeable battery, so you can sit on top and zip through the airport or down the street at speeds just over six miles per hour.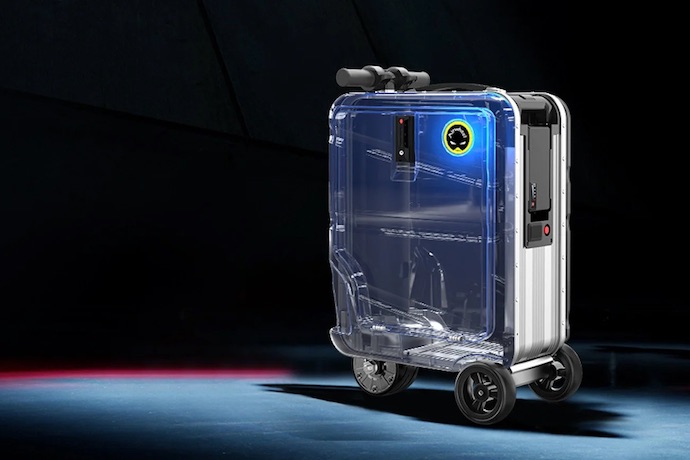 Straddle the top and place your feet on the attached footrests. The handle includes your accelerator and brake, similar to a motorcycle. The four-inch shock-absorbing wheels allow you to pass over various terrain. And with a range of 10 kilometers, you can ride a good distance between charges.
The frame is composed of aluminum alloy and holds up to 286 pounds. The suitcase is currently available in three colors, including a transparent option, and a charging bank lets you juice up your devices when waiting around.
You may get some funny looks when riding your suitcase through the terminal. But that's the price you pay for daring to be so innovatively lazy.