With the slew of smart speakers on the market today, it's difficult to know who benefits more—you from listening to music, or the speaker from listening to you.
This handsome new speaker won't add anything to your Amazon shopping cart, but it will provide hours of top-quality sound emanating from a compact package. And that's probably better.
It comes from Tokyo-based Balmuda, the company known for its iconic toaster and top-notch kettle. Imagine that level of technical design and craftsmanship, but now independent of your need to heat up bread or water.
This project was a labor of love for the company's founder and CEO, who once played in a rock band and wanted to create a speaker with concert-like sound.
The high-quality acoustics reproduce the vocally-driven and immersive sound of a live show, and even the internal lights are meant to evoke a live performance. Not bad for a speaker that's only seven inches tall by four inches wide and resembles a small lantern. It's also portable, rechargeable and Bluetooth compatible.
The 77-millimeter top-mounted speaker puts out 360-degree omnidirectional sound that's crisp and clear, all while maintaining the acoustic integrity of the song, which makes it perfect for music that leans into vocals and not just thumping bass.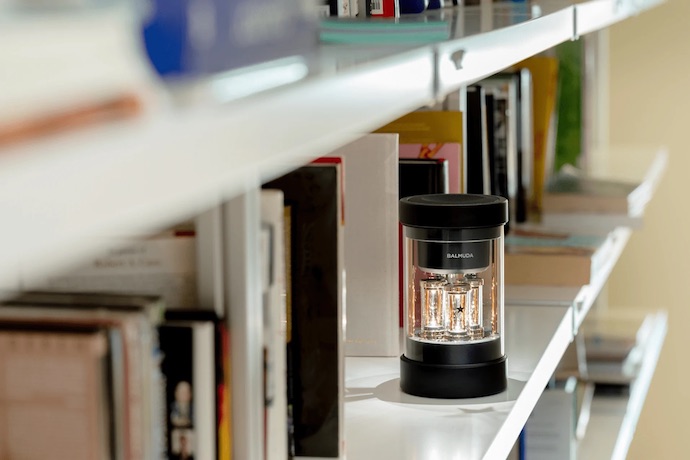 It was designed to recreate a full sensory experience. Inside, three cylinderical tubes contain LED lights that react with the music and can be set to multiple modes. Candle Mode provides a calm, flickering glow. Ambient Mode gently synchronizes with the sound. And Beat Mode goes all-in with full light synchronization. The light tubes are meant to act as the embodiment of three band members performing on stage.
As far as small speakers go, this may be the closest you can get to feeling like you're at a live show. Minus the part where you stand up for hours getting jostled around by strangers.
Though you can always start a mosh pit in your living room.