We like to divide outdoor explorers into two categories.
Campers and "campers."
The first set carries heavy packs for miles, sleeps on the ground and subsists mostly on granola bars. The other group enjoys being in nature, but still wants to retreat to a comfortable bed and chef-cooked dinner each night.
The former should buy some good bug spray, while the latter can check out Backland, an eco resort in Northern Arizona that's conveniently situated near the Grand Canyon.
Backland has four lodging options—all climate-controlled tents, all spacious, with panoramic windows, king-size beds, en-suite bathrooms and showers, and patios. For great views, try the Sky Suite, with a 16-foot window over the bed. If you're traveling with a crowd, book the Grand Suite, which sleeps six people across a king bed, queen sofa bed and twin bunk beds.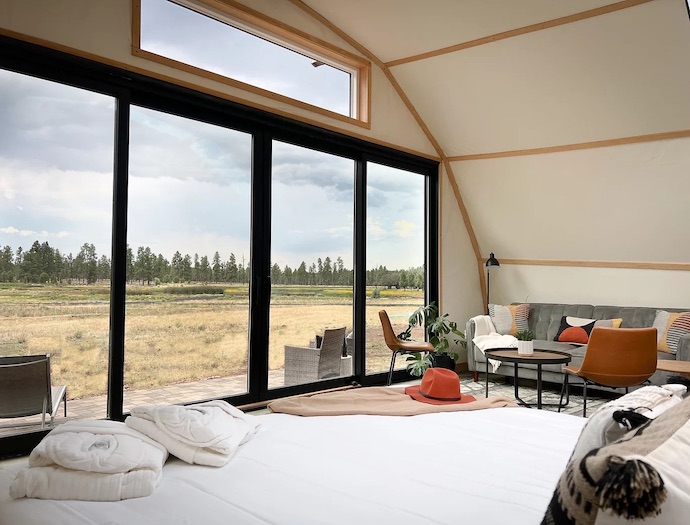 Outside your tent, you can stroll on the two miles of walking trails, or head over to the eight-acre pond—it has a beach, with complimentary kayaks, paddle boards and fishing poles. You can also rent e-bikes, take a yoga class or make s'mores around the fire pits. Or book a treatment at the on-site spa — yes, that's also in a tent — which incorporates herbs and botanicals found on nearby lands. And when you're hungry, the glass-walled restaurant is serving a menu of seasonal, local dishes that change each night.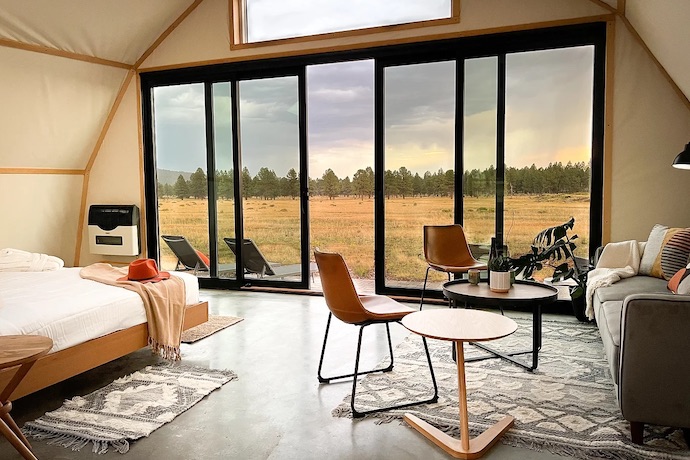 Backland is located nine miles off Route 66 and surrounded by thousands of acres of ponderosa pine forest, so there's plenty to do when you're off the property. That includes trips to Grand Canyon National Park and Sedona, which are both about 60 miles away. You can also hop aboard the Grand Canyon Railways to see the land from a train car, or take a Jeep adventure tour or a helicopter tour.
When your day's adventures come to a close, you'll return to comfortable confines, where you'll eat food you didn't have to cook and relax in a tent you didn't have to set up.
But don't worry, no one will force you to say "glamping."