Take a few deep breaths and listen.
Do you hear that?
It's nature. And it's inviting you to join it for some peace and quiet.
And cocktails.
The just-opened Little Cat Lodge is a 14-room, European chalet-style property situated on a seven-acre site at the base of Catamount Mountain, where the Hudson Valley meets The Berkshires. This location makes it a year-round destination, with access to skiing and snowboarding in the winter, and swimming, hiking, biking and golfing in the summer. Those rooms are joined by a pool, outdoor saunas, and a restaurant and bar coming later this fall, so it has everything you need for a relaxing getaway.
The lodge comes from a few heavy hitters: Noah Bernamoff and Matt Kliegman of NYC venues like The Smile, Grand Army and The Jane Hotel, plus Otto's Market in the Hudson Valley, and design studio LOVEISENOUGH, who designed Atelier Ace's Sister City Hotel and other fine spaces. The aesthetic nods to 1950s and '60s Western Massachusetts ski culture and rural cabins throughout the Swiss and Italian Alps. Expect to find custom furniture hand-built using local wood milled from Catamount Mountain and a general air of coziness.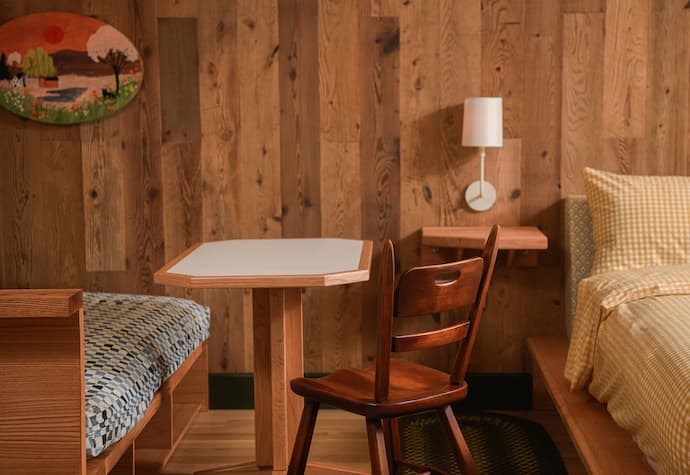 The property is comprised of two buildings surrounded by lush greenery. The two-story Guest House has 12 rooms with a vibe that merges alpine lodge with mid-century Berkshires, and each has a private terrace or patio overlooking the mountains. There are also two two-bedroom suites in the Main House, which can accommodate larger parties of up to six guests. Bedrooms feature custom-built beds made from local maple trees, and they're outfitted with vintage arm chairs, artwork, lamps, mirrors and more.
The seasonal swimming pool has lounge chairs and umbrellas, plus a pool bar where you can obtain necessary sustenance. If you'd like to go for a private schvitz, there are barrel saunas in the nearby woods.
When it's time to eat and drink, The Tavern is a 45-seat bar perfect for all your après-ski activities, and The Dining Room is a 70-seat restaurant helmed by executive chef and James Beard nominee Jason Bond. Both menus offer drinks and dishes inspired by the Alpine cooking of continental Europe, and they feature ingredients sourced from the Hudson Valley.
Which is where so many of the best ingredients choose to live.