There are countless worthwhile destinations in the Caribbean, including plenty of five-star resorts and laidback hotels.
So, when you wake up on a beach in the Bahamas, it could mean something has gone awry.
But in this case, it just means you've booked a tent as part of Atlantis Paradise Island's new Marine Life Camping Adventure. This new experience will have you camping (OK, "glamping") on the beach, hanging with dolphins and roasting s'mores over an open fire. And it's available to book now through August 27.
If you make the trip, you'll sleep in climate-controlled luxury tents along the shores of Atlantis' Dolphin Cay habitat. The tents sleep four or six people and are a major upgrade from the typical kind you'd pitch yourself. Because these all-weather canvas tents are outfitted with comfortable beds, Adirondack chairs and plush couches, and they're stocked with a mini fridge, coffee, tea and snacks—guests can add wine and beer to their package. There are adjacent bathrooms and showers.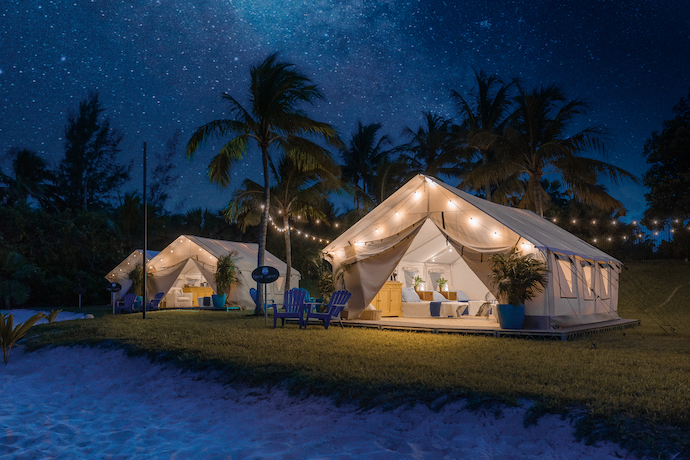 The Marine Life Camping Adventure also includes:
Kayak with Dolphins: Say hello to the resident bottlenose dolphins, as you paddle among them in their natural habitat.
Behind-the-Scenes Sea Keeper Tour: Get an insider look at the Royal Towers Fish Hospital, Rehab Center and Fish Kitchen, and meet a baby sea turtle.
Twilight Ruins Snorkel: Experience the iconic underwater habitat in a whole new light—facedown in the water while breathing through your mouth.
Dolphin Cay After-Dark Tour: Partake in a behind-the-scenes glow stick-lit tour at Dolphin Cay, where you'll meet a pod of rescued dolphins and a family of sea lions.
Watch movies and play games on the nearby lawn, and makes campfires at night to roast s'mores or warm your hands while you drink.
This new package is an add-on to existing reservations, so you'll need to stay at the resort to partake. A portion of the proceeds supports the non-profit Atlantis Blue Project Foundation, which is dedicated to saving sea species and their habitats throughout The Bahamas and the surrounding Caribbean seas.
Aquaman would be proud.