Your "influencer" friend won't stop bragging about the glass-walled suite they stayed in on Bali.
Just wait until they get a load of your Swiss hotel suite that comes without walls.
Welcome to Null Stern, which translates into Zero Star, but should probably be Swiss for "mind-blowing hotel suites that don't have walls and are plunked in the middle of nature to perpetuate an appreciation for your surroundings."

But it's not. Anyway, make your reservation while you can.

You know how it goes. You head off to some exotic foreign destination and next thing you know, you're stuck in a hotel room, your quest to sight-see and soak up the local culture temporarily thwarted by your stupid hotel room's base tendency to have walls you can't see through.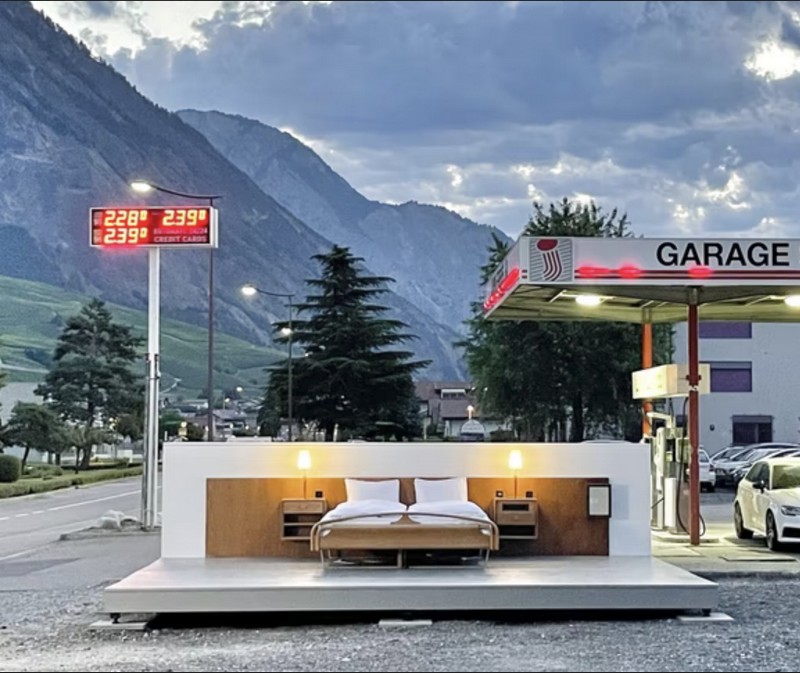 This entire project hopes to amend that. By offering a series of open-air hotel suites completely devoid of walls in scenic parts of Switzerland, so you can hang out and observe this thing called life flowing all around you. They're simply tailored in beds, lamps, and furniture, albeit the kind found in galleries. And should the weather become inclement, you'll just hang out until it's time to be whisked to an enclosed hotel. Of the more traditional kind.
There's one between two beautiful vineyards at the foot of Bietschorn mountain, where you'll watch the winemakers at work. There's also a suite on a picturesque hillside on land once owned by French actor Jean-Louis Barrault. And you'll definitely find the suite overlooking the Rhône Valley completely charming.

But should your tastes run differently, there's even an urban setting, with a suite placed on the perimeter of a gas station. For those who can't sleep without the sound of car horns, traffic, and the smell of benzene.

We just hope they don't forget the mint on your pillow.