When you think of hot sauce, you probably think of places like Mexico and Louisiana and Thailand.
When you think of Canada, your mind probably wanders to popular exports like hockey and poutine and Tim Hortons.
But sometimes good things come from where you least expect them. Which is our reasoning for Heartbeat Hot Sauce, an Ontario-based outfit that's been making spicy condiments since 2015 but just expanded into the U.S. market this year. You can find the bottles online via their website and Amazon.
The company was founded by a husband-and-wife duo in their hometown of Thunder Bay, Ontario. What began as a small, word-of-mouth brand soon caught the attention of industry leaders, and Heartbeat was featured on "Hot Ones: The Game Show," which is a nice pedigree.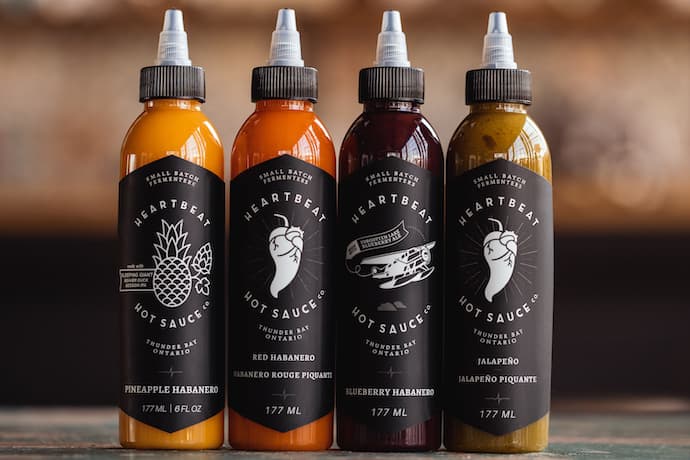 You can choose from multiple flavors spiked with various chilies, with options including Scorpion, Louisiana Style, Dill Pickle Serrano, Jalapeño, Shiitake Szechuan and Piri Piri. It's a versatile bunch.
Heartbeat offers three fruit-habanero combinations: pineapple, mango and blueberry. Each is bright and bold, and in the case of the pineapple and blueberry varieties, made with a dash of local beer.
Dill Pickle Serrano is a mild crowd pleaser that's tart and tangy, with a green, vegetal depth that tastes great on hot dogs and sandwiches.
Scorpion is one of the hottest sauces in the lineup, featuring Trinidad scorpion peppers, plus red bell peppers and chipotles in adobo. Put it on pizza, tacos, eggs and anywhere you might employ sriracha.
If you really want to punch yourself in the face with heat, Poirier's Louisiana Style K.O. Edition is the hottest of the bunch. A collaboration with UFC star Dustin Poirier, it starts as the original Louisiana Style, with fermented cayenne and vinegar, but adds ghost pepper powder to the mix. It's not for the faint of heart.
If you can't choose a favorite, buy a four-pack online. If you still can't choose, buy a six-pack. Then apply liberally to everything you eat.
Maybe not cereal, but just about everything else.