NYC fashion designed Todd Snyder is no stranger to collaborations.
He's worked with everyone from Champion and heritage outfitter L.L.Bean to shoe brands Victory and Jack Purcell.
But his recent collab isn't with a clothing or accessory brand—it's with a resort in Maine.
Hidden Pond by Todd Snyder sees the designer apply his stylish sensibilities to 20 bungalows across the Kennebunkport retreat. They're available to book now.
Hidden Pond opened in 2008 on 60 acres of land dotted with birch groves and balsam firs. The private luxury resort has a mix of two-bedroom cottages and one-bedroom bungalows, plus two outdoor swimming pools, a treetop spa, and an award-winning restaurant called Earth.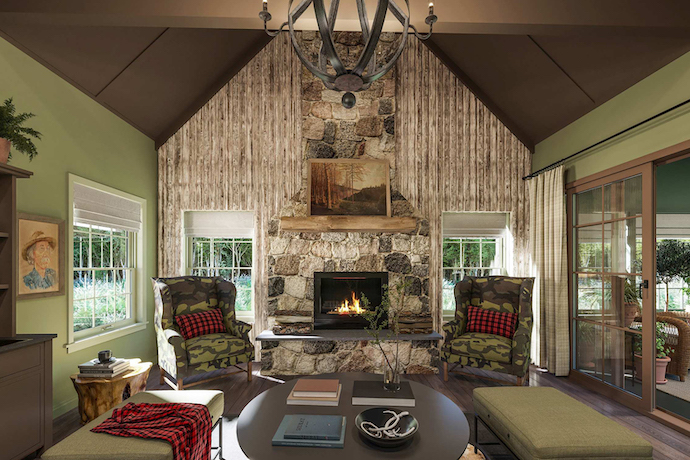 In 2020, Snyder gave one of the rooms a refresh, turning a two-bedroom cottage into the From Away Lodge, using L.L.Bean upholstery, industrial accents and a color palette that mirrored his fall collection. Now, he's taken on those 20 bungalows, updating each to emulate one of three themes: Seaside, Mountainside and Countryside.
All of the 650-square-foot bungalows are outfitted with a plush king bed, stone fireplace and a spacious bathroom with a marble shower, plus screened-in porches and outdoor rain showers. From there, they begin to differ.
The Seaside rooms are modeled after a classic American beach house, with light tones, natural linens and antique brass accents—think white patina hardwood floors and oyster shell wallpaper.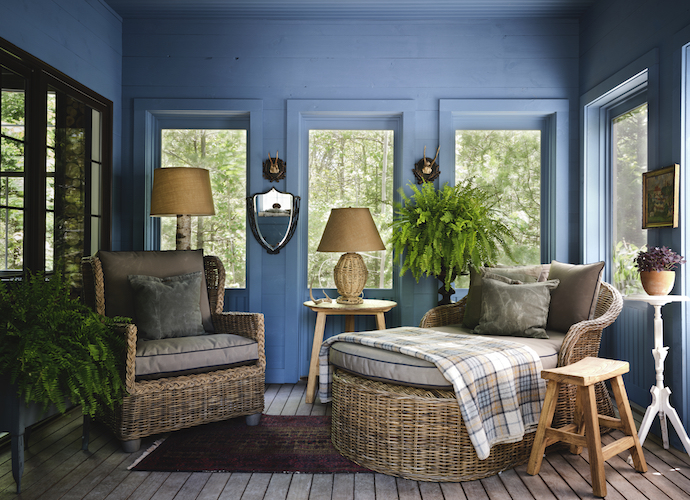 The Mountainside rooms have a woodlands vibe and were inspired by the highest mountain in Maine, Mt. Katahdin. Greens, slate blues and grays are mixed with warm earthy tones, and the walls are lined with leafy wallpaper.
The Countryside bungalows channel Snyder's original From Away Lodge and feature lots of mahogany and walnut woods, and utilitarian accents, like repurposed army tent benches and L.L.Bean heritage plaids.
Pick whatever theme appeals to you most, and hunker down for awhile. It's like a game of choose your own adventure.
But one where every adventure comes with a comfortable bed and locally sourced lobster.