With the weather warming up, people everywhere are beginning to venture outside.
Look closely, and you'll see that many of them are wearing aprons and wielding tongs, ready to grill, smoke and otherwise coax maximum flavors from meat and vegetables.
"Good for them," you might think, watching wistfully from your apartment window with nary a backyard or grill at your disposal.
For you, there's the Arden Indoor Smoker, a new contraption that lets you cook all your favorite foods indoors without filling your place with smoke. After a successful fundraising campaign, it's available to preorder now.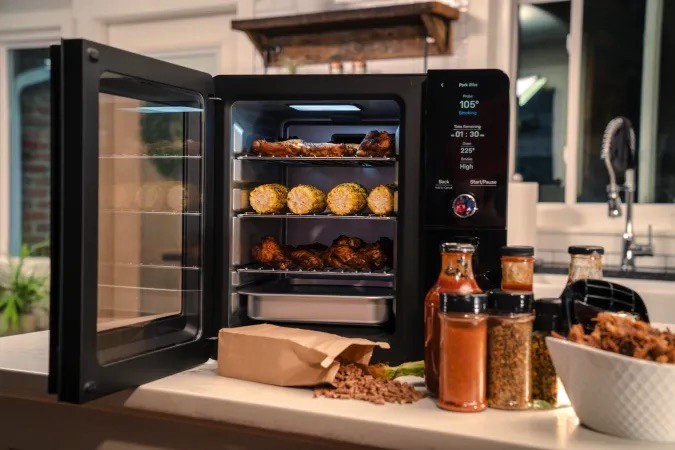 Arden is compact and meant to sit on your counter. It's just 16 inches tall, 15 inches wide and 18.5 inches deep. That's a lot smaller than your typical outdoor smoker, but it still holds enough to feed you and some friends—it fits a medium-size brisket, two racks of ribs, a whole chicken or a couple dozen wings.
Like most electric smokers, it uses wood pellets to generate smoke. Simply fill the water tray, load the gizmo with pellets, and set your desired temperature and smoke intensity. Then throw your food on the racks and go about your day.
The device generates fresh smoke and keeps it circulating over your food throughout the cooking cycle. The temperature and smoke are controlled separately, so one can be dialed back without impacting the other. Temps fall between 185 and 300 degrees Fahrenheit, and it will hold your food at the desired temperature until you're ready to eat. It does all that while the device's internal tech ensures that smoke stays inside the smoker without leaking into your kitchen.
This is a far cry from wood-burning smokers, but you shouldn't have to suffer non-smoked meats simply because you don't have an outdoor space.
Just ignore the fact that, somewhere, our large-browed ancestors are rolling over in their graves.