We say Sunset Strip, you say…
Guns n' Roses. The Doors. The Viper Room.
That lame corporate hotel you slept at after sharing pizza with Lemmy at the Rainbow 10 years ago.
We say, free associate no longer. Because L.A.'s legendary Sunset Strip finally has a hotel willing to turn it up to eleven.
Meet Hotel Ziggy, a moonage-daydreamin', space-invadin' new property that amps up the musical references, from its stylish lobby to its rooms and restaurant, now open in West Hollywood.
It's a Sunset Strip hotel with eclectic musical tastes, a vinyl-fueled cocktail lounge, live music venue, low-key pizza spot, and lobby where you can just hang out and listen to records all day.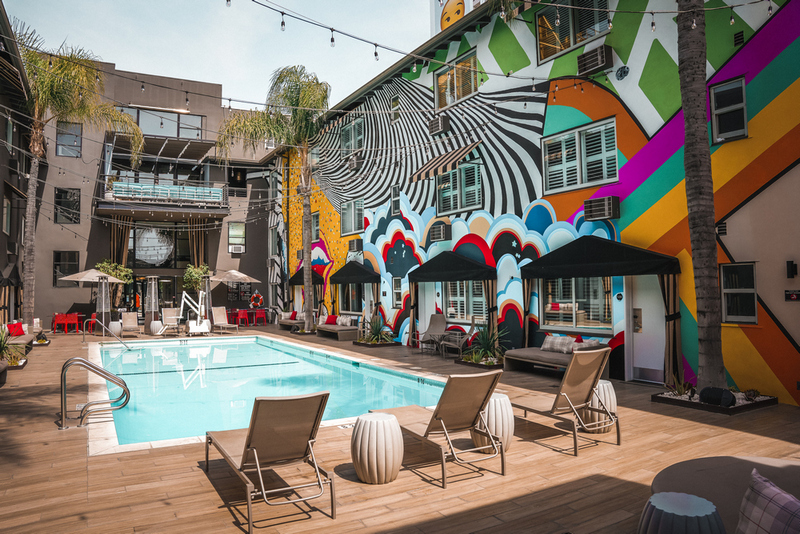 And here's how we see you using it:
--Frolicking with your fellow scantily clad amphibians in the city's largest saltwater pool, while being serenaded by live DJs.
--Staring at the walls, where you'll see Découpage murals strewn with guitars, band photos, concert posters, and legal documents that shine the lights on litigation between artists and suits.
--Waiting blissfully for your friends in the lobby, where hundreds of records line the lounge, spanning the gamut of musical palates.
--Grabbing a slice from the to-go window at B-Side, the old school pizza concept that looks onto Sunset, before you head out to trace the steps of The Stones, Led Zeppelin, Runaways, and Motley Crue. Sorry, we haven't mastered our umlauts.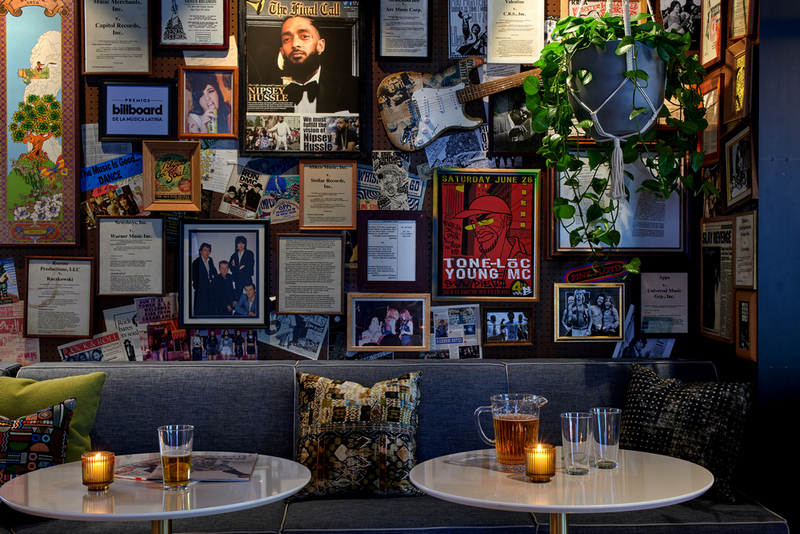 --Getting all access to the Shred Shed, where you can borrow guitars, amps, record players, vinyl, and Walkmans. Remember those?
--Raising a nightcap in Backbeat, where local musicians bring the noise behind a retractable glass garage door.
--Inviting the party back to your room, which comes handsomely appointed in midcentury furniture, coffee table books on legendary musicians, and colorful show posters.
Frankly, it looks too good to even consider throwing a TV out of the window.