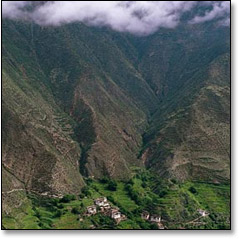 Out with the old, in with the new—it's that time of the year again. Maybe this year is all about doing it bigger and better, or doing something less ordinary.
We humbly suggest the Himalayas—after all, it doesn't get much bigger, more unusual or any loftier than the "Roof of the World."
Located in the Tibetan Yunnan province, which has recently been designated as "Shangri-La" (apparently they finally found it), the
Banyan Tree Ringha
is as remote as destinations come. You can get your mountain blood flowing with a Himalayan Guishi massage (don't worry, your suite comes equipped with a spa treatment room), or have room service set up a teriyaki grill in your new backyard, but the real draw is exploring the scenery. Horseback rides and hikes of varying lengths and difficulty are offered, including a 9-hour trek into the mountains to meet with the nomads (in case you're on the hunt for a good recipe for yak cheese).
Fortunately, if you usually spend more time indoors than out, or just don't feel like walking, the Ringha's fleet of SUVs will take you on a number of trips, including a tour of Mount Kawaparko that comes complete with gorges, flood plains, and a monastery (celibate urges not included).
Suddenly, this year looks a little different from the rest.