Christmas Day. New Year's Eve. A couple Tuesdays from now.
You never know when the mood for caviar will strike, so it's always smart to be prepared.
There's no shortage of options for acquiring caviar. Hell, Amazon has tons, if you want to throw a tin into your cart with some lightbulbs and an Instant Pot. But if you're going to spend money on roe, it's nice if it comes with an endorsement. And there aren't many better endorsers than Eric Ripert, the chef behind New York's three-Michelin-star restaurant, Le Bernardin.
The Eric Ripert Caviar Selection was created in partnership with Paramount Caviar, who has been Le Bernardin's caviar purveyor for more than 25 years. That's the kind of pedigree you appreciate when buying fish eggs on the internet.
The lineup features caviars in various size options, so you can choose whether to spend a small portion of your paycheck or the whole thing. That includes a smoked trout roe, signature Imperial Osetra and the rare golden roe Imperial Hybrid. But the best choice of the bunch is the Caviar Flight.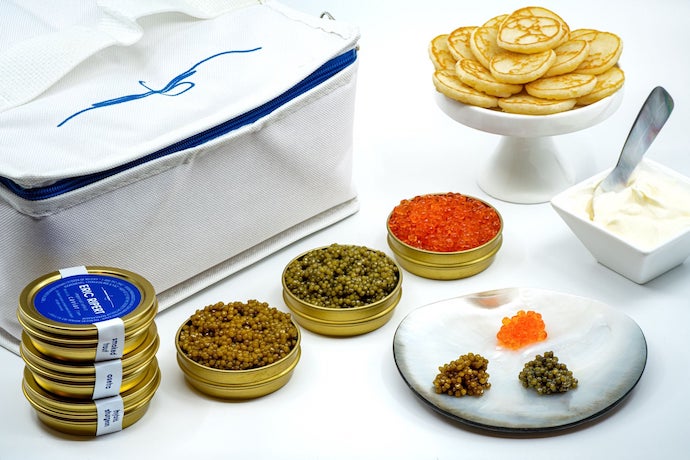 Said flight includes all three options, plus the necessary accoutrements, like crème fraîche, blinis and three mini mother of pearl spoons for serving. It even comes in a handsome bag. If you're in New York, you can pick it up straight from the source, otherwise they will cold-pack everything and ship it overnight to ensure it all arrives fresh and fast.
If you need a last-minute gift for your food-loving friend, this could be it. Better yet, break out this spread during the holidays when you want an afternoon snack that's not just ham sandwiches and leftover potatoes. Or treat yourself and a special someone to a fancy New Year's Eve of caviar and... let's say Champagne.
A pairing so crazy it just might work.