The Ridley Scott film "House of Gucci" has taken the world by storm, offering a compelling look into the Italian fashion dynasty.
And if you're not put off by such things as murder and dysfunction, then you may wish to channel the family's lifestyle, if only for a night.
Two properties are giving you a chance to live like a Gucci—first in London, and then on Lake Como. Bring your wallet and watch your back.
The Royal Suite by Gucci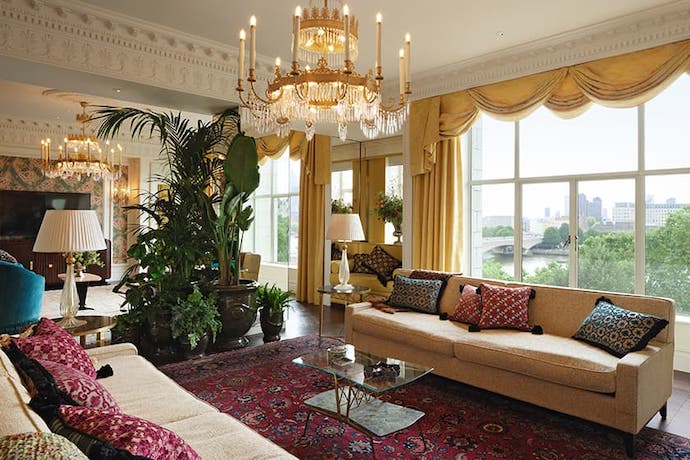 Before founding the fashion house in 1921, Guccio Gucci worked as a porter at London's famed Savoy hotel, drawing inspiration from the stylish travelers. Now, the hotel is commemorating the brand's 100-year anniversary with the Royal Suite, which spans 2,852 square feet, runs the entire length of the fifth floor, and looks onto the River Thames below.
The interior has been redesigned to resemble Gucci's world, with furniture and decorations pulled from the Gucci Décor Collection, and the art was specially curated by Christie's to hit the proper aesthetic. There's a four-poster bed, an airy living room with an elegant dining space, a large marble-clad bathroom and a spacious dressing room with a cedar-lined wardrobe. It's got all the necessary trappings, plus the gold and velvet you'd expect.
A stay at the Royal Suite also includes private transfers to the hotel, a welcome gift and a bottle of Champagne, plus a choice of Italian cocktails for an evening aperitif. Then you get a VIP shopping experience, either within the Royal Suite or in one of Gucci's London stores, complete with a chauffeured ride in a Rolls Royce.
Villa Balbiano: The "House of Gucci" on Lake Como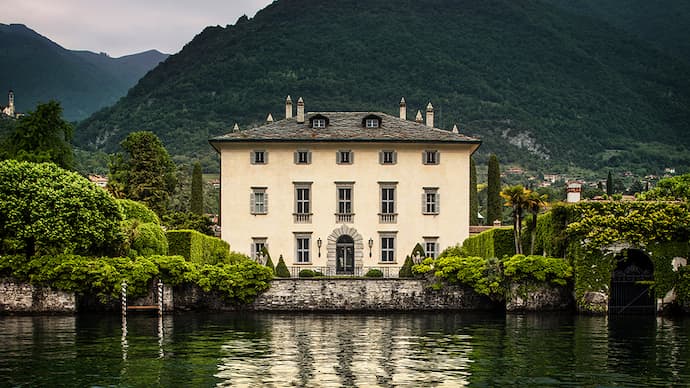 Situated on the shores of Lake Como, Villa Balbiano plays the role of family patriarch Aldo Gucci's home in the film. The historical palazzo was built in the 16th century and once belonged to the famous Cardinal Tolomeo Gallio. Today it's one of the largest private residences on the lake, with a picturesque garden, swimming pool, private pier and boathouse. Inside, the six-bedroom, six-bathroom home is filled with art, antiques and 17th century frescoes.
There is, however, a catch: The residence is available for one night only, so get your clicking finger ready. Bookings open Monday, December 6 at 12pm EST for a stay on March 30, 2022.