Your average hot tub is connected to a gym, pool or public spa.
Sure, it's nice in a pinch, but the presence of strangers can really ruin the vibe.
What you need: a personal hot tub. And ideally one that doesn't resemble a metal trough.
So here's the Goodland Wood-Burning Hot Tub. It's a new advancement in the soaking arts that's made in Canada and can be shipped to your home, cabin or anywhere else you want to gently cook yourself in warm water. Orders will begin shipping in January.
The tub is made from durable, 100% recyclable materials including marine-grade aluminum and Western red cedar, with oak and raw brass detailing. Goodland also sells accessories, including cedar steps and a firewood holder.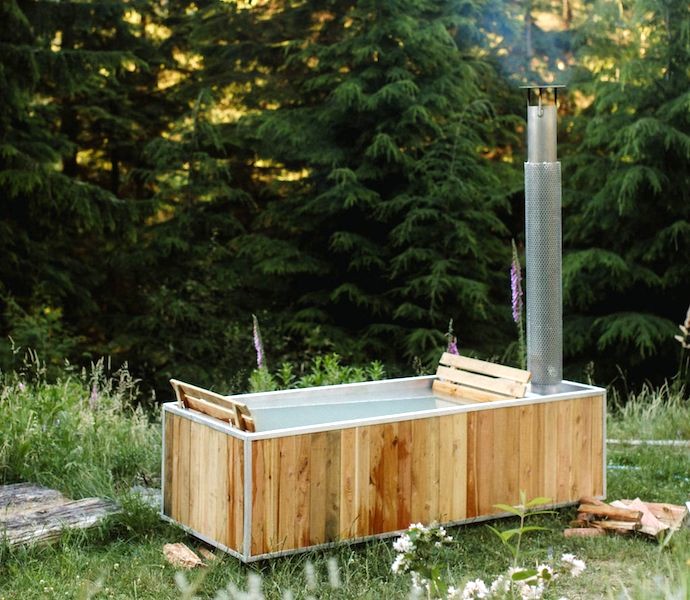 You're responsibly for heating things up, so gather an armful of branches or chop some wood for the fire box. Once lit, the fire will heat up the water in about 90 minutes, and it stays warm with three layers of heat retention. Step in, and settle into one of the wood recliners for a soothing soak. There's room for a companion, should you want some company.
The founders say there's more to a good hot tub session than simply submerging yourself in water. The process of chopping and stacking wood, lighting and stoking the crackling fire, stirring the water and smelling the wood smoke emanating from the chimney help you to slow down and ground yourself in nature. Which sounds like something we could all use more of.
So, the next time you want to spend some quality time in nature, either by yourself or with a special someone, fire this thing up. It will connect you with the elements and work out all those kinks.
Kinks you may or may not have acquired while chopping wood for your new wood-burning hot tub.