Gray Malin is a fine-art photographer famous for his photo collections and aerial photography.
You know his work even if you don't know his work.
It includes gorgeous photos of Hawaiian beaches, including a series at the Mauna Kea Beach Hotel with vintage props, colorful surfboards and striped umbrellas.
You can buy a print if you'd like. Or you can step into the photos and experience them firsthand. Because that same hotel has partnered with Malin to open the Gray Malin Beach Club, a new beachside oasis that brings his photos to life. It opens September 1 and runs through December 17.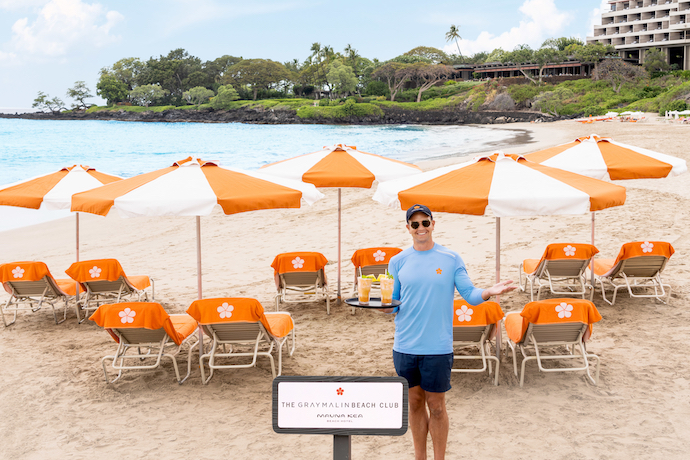 Said oasis will transport you directly into one of Malin's photos, complete with the eye-catching orange-and-white umbrellas, beach towels and ocean views. It's a fine place to relax for a few hours, or a few days, while sipping on the resort's beloved Fredrico cocktail, which merges whiskey and light rum with tropical juices. Yeah, that should do the trick.
The beach club is open to guests who book the Gray Malin Beach Club package, so go ahead and do that. You will also receive accommodations for two in a beach or ocean room, two reserved beach chairs for the duration of your stay, a framed photo from Malin's series at the hotel and a handsome tote bag.
So, if you like art, photography, beaches, sunshine and/or cocktails, then consider this your excuse to get out of town.
Or maybe it's the tote bag that seals the deal for you.