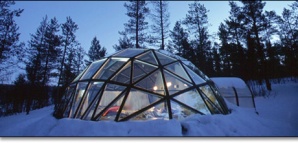 It's wintertime, which means there's just one place to be—the North Pole. And you may as well do the big guy one better and head to the Pole and keep on going, to Finnish Lapland.

The Hotel & Igloo Village Kakslauttanen, nestled about 100 miles north of the Arctic Circle, offers the ultimate room with a view: thermal glass igloos with luxury beds (it's like a five-star goldfish bowl) or, for more privacy, choose an igloo made of snow blocks. And don't worry about sleeping through the Northern Lights display, because staffers ring a bell to alert guests when the light show begins.

Brave guests can try ice swimming (apparently it has rejuvenating qualities, though probably not for...every part of your body) or shed their clothes en masse to bask in the world's largest smoke sauna. If you like staying clothed, snowshoeing, skiing and even survival training are all available.

It gets dark early this far north in the winter, which just means cocktail hour rolls around sooner. Koskenkorva Vodka and Russian "Champanskaja" are the Lapp drinks of choice—served with a meal of reindeer filet or charcoal grilled salmon, they'll fortify you for the short, frigid walk back to your igloo.

Though we're pretty sure you'll find some way to stay warm.