If you thought the Hudson Valley couldn't possibly house one more picturesque retreat that seamlessly merges nature with all the modern trappings a good vacation requires, well, you were partially right.
Because it's got two more.
Hutton Brickyards and Inness are ready for your next New York escape. Each features comfortable cabins, restaurants serving seasonal cuisine and access to the great outdoors. And since they're only 30 minutes apart, you might as well visit both.
Here's what you need to know.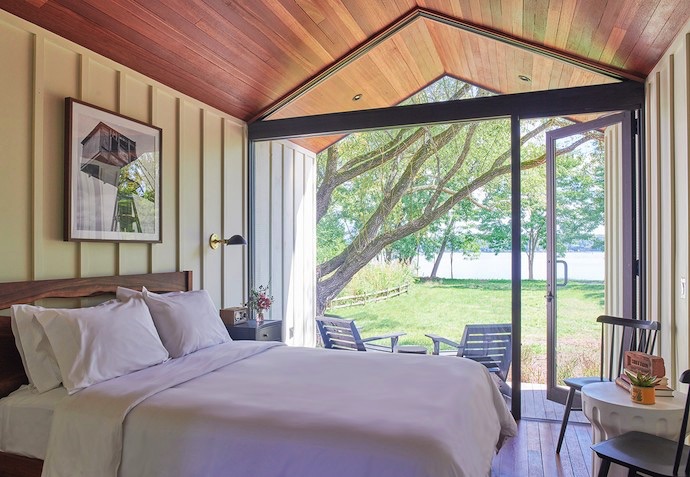 Hutton Brickyards
Hutton Brickyards sits on a 73-acre campus along the Hudson River. King and queen cabins dot the property, with river-view options sporting floor-to-ceiling glass windows looking out onto the water. There's also a two-story cottage that accommodates four people and features a dining room and wet bar. Important to note: Each cabin is equipped with a "Thirsty" flag, which you can raise for afternoon cocktail service.
Breakfast is delivered to your door daily, and the open-air River Pavilion restaurant is led by Executive Chef Dan Silverman, previously of Manhattan's Balthazar and Minetta Tavern. There you'll find dinner menus featuring wood-roasted meats, fresh fish and seasonal produce.
Walk the grounds, go for a hike, take a yoga class or just settle into an adirondack chair around a firepit, have a drink, and watch the world go by until it's time for your massage at the Salt Spa.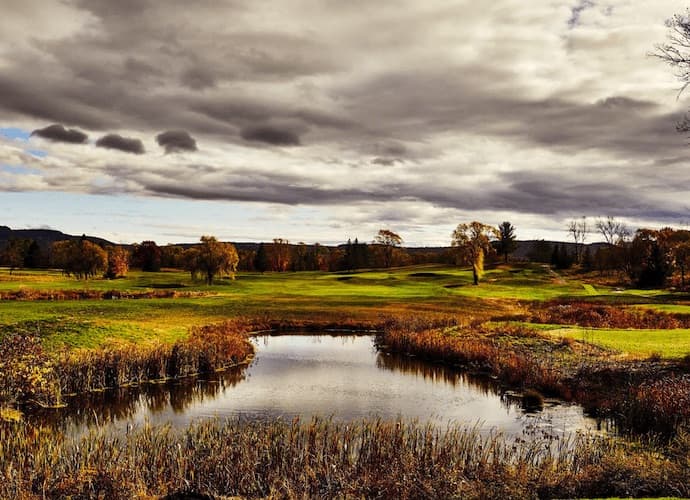 Inness
Inness is an outdoor adventure wonderland, with a nine-hole golf course, a swimming pool, tennis courts and hiking trails. The property has 40 guest rooms located throughout the grounds, comprising 28 cabins and a 12-room farmhouse.
The restaurant sports panoramic views of the grounds, plus an all-day menu of seasonal offerings from the Hudson Valley, including dishes prepared al fresco on smokers and grills.
The links-style golf course was designed by the same group behind the famed Sweeten's Cove in Tennessee. It cuts through the natural landscape with deep bunkers and undulating greens. Walking is encouraged, and stodgy rules about proper attire are ignored.
So you can take that mulligan in your most comfortable hoodie.